Isle of Man TT: Hickman records fastest Superbike speed
Last updated on .From the section Motorsport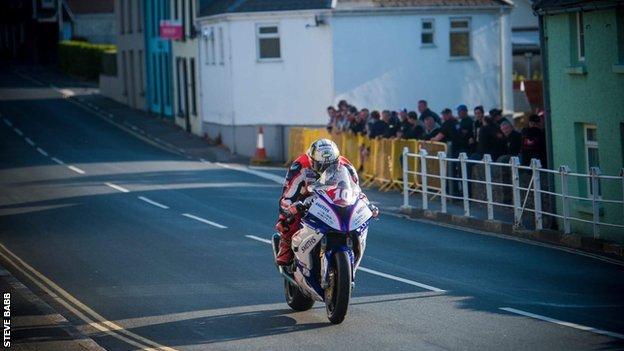 Peter Hickman recorded the fastest speed of Thursday's Superbike TT practice outing on the Isle of Man.
The Lincolnshire rider set his fastest-ever lap of the Mountain Course at 132.806mph on his Smith's Racing BMW.
The death of Manx rider Dan Kneen following an accident on Wednesday made for a subdued backdrop to the session.
"It's been a tough few days. It's such a shame but we're here to do a job and we want do it in Dan's memory," said Hickman after his fastest lap.
Hickman indicated that there were "damp patches" around the 37.73-mile circuit - but despite that, the British Superbike rider's time was the second-quickest recorded during practice week.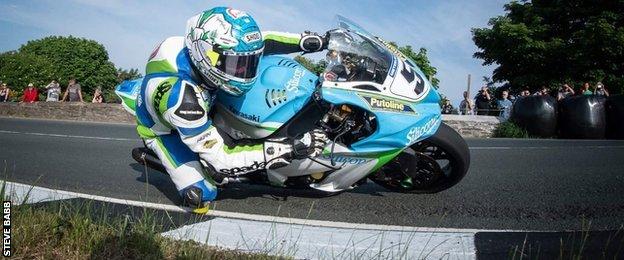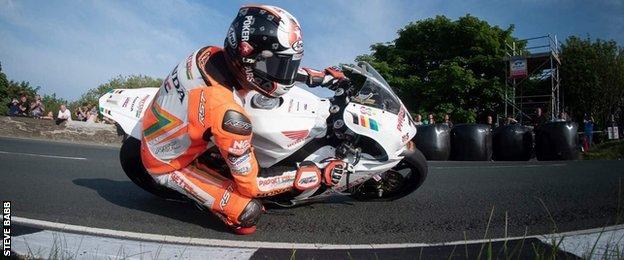 Yorkshireman Dean Harrison still tops the Superbike leaderboard with a lap of 133.462 on his Kawasaki, an unofficial lap record for the class, which he set on Tuesday night.
Michael Dunlop is third fastest in the premier class so far with 132.319 and Manxman Conor Cummins is now fourth best thanks to his speed of 131.175 on Thursday night.
Australian David Johnson headed the Superstock times on his Gulf BMW on Thursday at 129.202, with Hickman, Harrison and Dunlop all exceeding the 128mph mark.
Hickman retains his position at the top of the overall leaderboard for the week at 130.619 from Tuesday.
Ivan Lintin led the Supersports on Thursday with 123.22, well shy of Harrison's benchmark of 125.797 set in the opening practice on Saturday evening.
Practising will continue on Friday night, with the first race of the meeting, the six-lap Superbike event, set to start at 12:00 BST on Saturday.
Superbikes

1. Dean Harrison (ENG)

Kawasaki

133.462mph

2. Peter Hickman (ENG)

BMW

132.806

3. Michael Dunlop (NIR)

BMW

132.319

4. Conor Cummins (IOM)

Honda

131.175

5. David Johnson (AUS)

BMW

129.632

6. Michael Rutter (ENG)

BMW

129.583
Superstocks

1. Peter Hickman (ENG)

BMW

130.619mph

2. Dean Harrison (ENG)

Kawasaki

130.553

3. Conor Cummins (IOM)

Honda

Honda 129.584

4. David Johnson (AUS)

BMW

129.202

5. Lee Johnston (NIR)

Honda

128.288

6. James Hillier (ENG)

Kawasaki

128.110
Supersports

1. Dean Harrison (ENG)

Kawasaki

125.797mph

2. Michael Dunlop (NIR)

Honda

125.741

3. Conor Cummins (IOM)

Honda

125.152

4. James Hillier (ENG)

Kawasaki

124.919

5. Peter Hickman (ENG)

Triumph

124.447

6. Ivan Lintin (ENG)

Kawasaki

124.376
Supertwins

1. Michael Dunlop (NIR)

Paton

120.875mph

2. Ivan Lintin (ENG)

Kawasaki

120.660

3. Stefano Bonetti (ITA)

Paton

118.848

4. Derek McGee (ROI)

Kawasaki

117.571

5. Peter Hickman (ENG)

Kawasaki

117.508

6. David Johnson (AUS)

Kawasaki

117.029