Isle of Man TT 2018: Hickman sets record in Senior TT win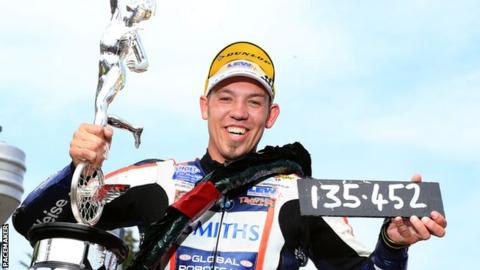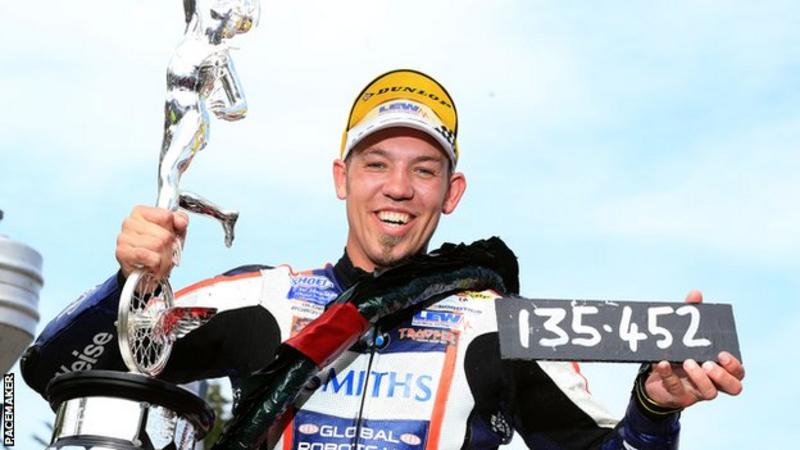 Peter Hickman stormed to his first Senior TT win thanks to a sensational first lap of the Mountain Course at over 135mph on his final circuit.
The Lincolnshire rider, 31, set a new absolute course record of 135.452mph to edge out compatriot Dean Harrison by two seconds after a thrilling battle.
Harrison was also inside the previous best lap benchmark, with Manxman Conor Cummins third.
The Smith's BMW rider had taken his first TT win earlier in the week.
Hickman and Harrison played out one of the classic Isle of Man TT races in front of tens of thousands of spellbound fans, Harrison leading for the entire race until Hickman produced his stunning performance on lap six to take the win.
The Yorkshireman's lead going onto the last lap was just 1.9 seconds but the Silicone Engineering Kawasaki pilot finished runner-up after a nailbiting, enthralling final lap.
Hickman had beaten Harrison's six-day-old course lap record on his fourth circuit at 134.456 but smashed that in his last-gasp charge to steal victory, Harrison's 134.918 remarkably proving not enough.
Praise for runner-up
"What a tough race that was - massive credit to Dean, he was absolutely on it and led for virtually the whole race," said Hickman.
"There was never much in it and I kept losing ground in the first couple of sectors, but I kept gaining on the Mountain.
"The Smith's BMW worked perfectly, sweet as a nut. What an awesome end to an up and down couple of weeks."
Hickman was second behind Michael Dunlop in last year's Senior but the Ballymoney rider was never in contention for the race win this time as he was strangely off the pace from the start.
Hickman has also tasted success in British Superbike races - the North West 200, the Ulster Grand Prix and the Macau Grand Prix - and can now be regarded as one of the greatest road racers of his generation.
His staggering speed on the final lap secured a new race record and ensured that the TT eclipses the Ulster Grand Prix lap record of 134.617 to lay claim to the title of the fastest road race in the world.
Cummins was one minute and 40 seconds behind Harrison to grab the final podium position, with 2018 hat-trick man Dunlop fourth, Australian Josh Brookes fifth on the Norton and Gary Johnson sixth.
James Hillier, Lee Johnston, Ian Hutchinson and Michael Rutter were among the notable retirements.