Susie Wolff named boss of Venturi Formula E team

By Andrew Benson
Chief F1 writer
Last updated on .From the section Motorsport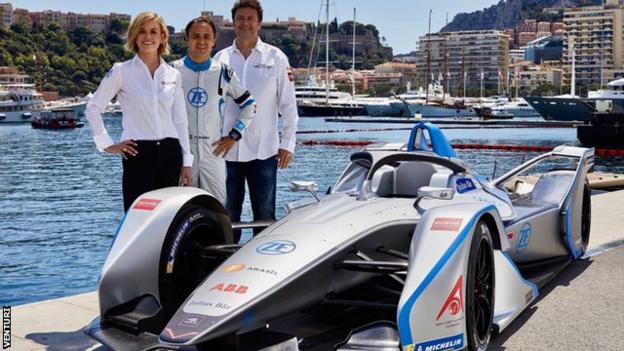 Former Formula 1 test driver Susie Wolff has become team boss and part-owner of the Venturi Formula E team.
The 35-year-old Scot said it was the "perfect next step" in her career.
Wolff said: "When I decided to stop as a racing driver in 2015, I knew I wanted to continue with the challenge of competitive motorsport."
Wolff's first race in charge will be the finale of the current, fourth season of the all-electric racing series in New York City on 15-16 July.
Wolff took part in two practice sessions at grands prix for Williams in 2015 but at the end of the year decided to retire as an active racing driver.
Since leaving Williams at the end of 2015, Wolff has focused on her Dare To Be Different programme, which aims to encourage girls and young women to become involved in motorsport.
Wolff is married to Mercedes F1 boss Toto Wolff, who will oversee the German marque's entry into the all-electric series Formula E in season six, which starts in late 2019.
Susie Wolff told BBC Sport: "This is not linked to Mercedes and Toto. I was always very clear when I took some time out to start a family that I wanted to come back and get my teeth into something and of course I could not work for Toto or a competing manufacturer.
"I've had a front-row seat as he has led the Mercedes F1 team very successfully and it became clear to me that I wanted to stay within motorsport.
"I met Gildo Pastor, the chief executive officer of Venturi, some years ago, when I was thinking about driving in Formula E.
"We've stayed in touch and not long ago he texted me to ask if we could talk about me getting involved with Venturi on the management side.
"It's the perfect opportunity to stand on my own two feet and take on a new venture in motorsport."
Pastor said: "Susie's energy and expertise will help us grow by strengthening the team and introducing a new approach to management.
"Susie takes a unique strategic view of the championship and motor racing in general."
From season five of Formula E, which starts in Riyadh in Saudi Arabia in December this year, Venturi will supply a power-train to the new German-based HWA team, the forerunner of the official Mercedes official entry.
Venturi and HWA already have a technical relationship as HWA build up knowledge and expertise in Formula E ahead of their involvement.
When Mercedes enters under its own name in late 2019, its team will use a power-train developed by Mercedes HPP, the UK-based operation that provides the German marque's Formula 1 engines.
Venturi will continue as an independent entity through that period.