Shane Byrne: British Superbike champion unsure over future after crash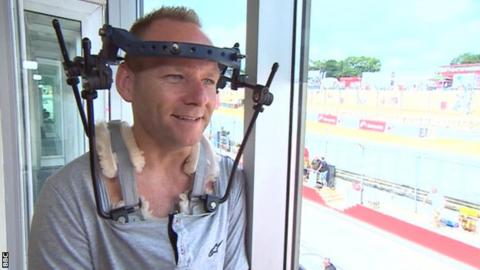 British Superbike champion Shane Byrne is unsure if he will race again as he recovers from a crash during testing.
The 41-year-old remains in a head brace after breaking his neck, four vertebrae and all his ribs at Snetterton in May.
"I won't put myself in a situation where whoever gives me a job doesn't get 100% of me," he said.
"If I can only give 99.5% because there is an element of doubt about a dodgy neck or whatever, then I wouldn't go down the lines of riding again."
Speaking to BBC South East today, he added: "I pride myself on the fact that when I get on my bike you get 100% of me every time."
Six-time British Superbike champion Byrne, who is from the Isle of Sheppey in Kent, also contracted pneumonia last month.
He is due to have a scan in the coming week to find out the extent of damage to his neck.
"My back is all fixed because it is screwed and bolted and plated," he said.
"If the neck is not great after this appointment then it doesn't take a genius to work out what another bang on the head might do."