Jon Armstrong: Rally driver to virtual World Champion
Last updated on .From the section Motorsport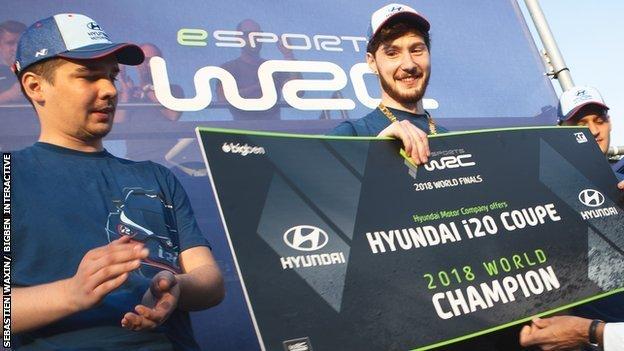 Sometimes dreams don't work out like you had originally planned.
Jon Armstrong is part of an impressive crop of next-generation Northern Irish drivers but, as ever, finding a budget to reach the highest level can be an issue.
The Fermanagh man's speed has never been in question, from when he first competed in rally sprints when he was 13 to his first closed stages four years later, he has made a habit of lighting up the timing screens.
After sitting out in 2014 due to budgetary issues, Armstrong moved into European rallying, winning the Rookie title in the DMACK Fiesta Trophy in 2016.
The achievement earned him two prize drives the following year in the WRC2 class, the tier below the main World Rally Championship, with rounds in Germany and Spain worth £50,000 each.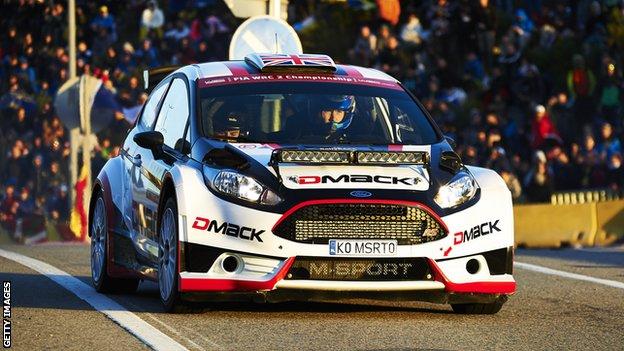 Armstrong again impressed, setting a fastest stage time in Germany and mixing it with some of the highest-profile youngsters in the sport.
"We were on the pace straight away and mixing it with some of the big names," said Armstrong.
"We set a fastest stage time on the Sunday which was a great achievement.
"It's hard when we didn't have the budget to do a structured season.
"We've had flashpoints of speed but with no money we haven't been able to build on them and anything we have done has been on a shoestring budget."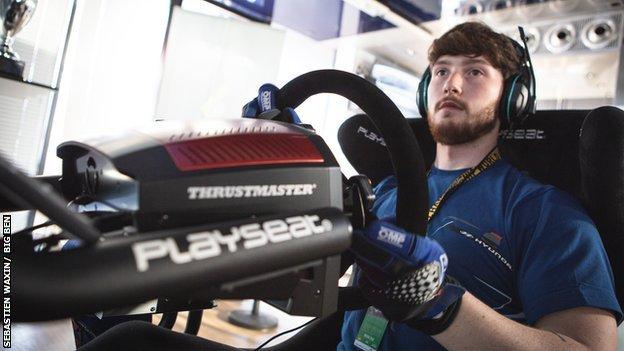 Virtual Reality
One year on from his first outing on the German asphalt, Armstrong, with no budget for real rallying, turned his attention to Esports having been inspired to try the WRC7 game after watching the live stream of the 2017 finals.
Out of thousands of entries, he finished third during this year's 13-round Esports regular season, with the top nine making the final in Rally Germany's service park, alongside the real event.
The finalists were cut to six from there, which became four, and finally there was only Armstrong remaining.
He came out on top, beating some of the fastest Sim racers in the world, becoming the first real-life rally driver to do so, with his winning drive being broadcast on the WRC's live streaming service.
"I still can't believe it," said the 23-year-old, "As a racer you always want to win, so to have this feeling again is fantastic."
"I grew up playing the Colin McRae and Richard Burns rallying games and then my interest grew from there.
"I basically learnt how to drive a rally car when I got my first gaming wheel when I was 10, and that really helped me when I stepped behind the wheel of a real rally car for the first time.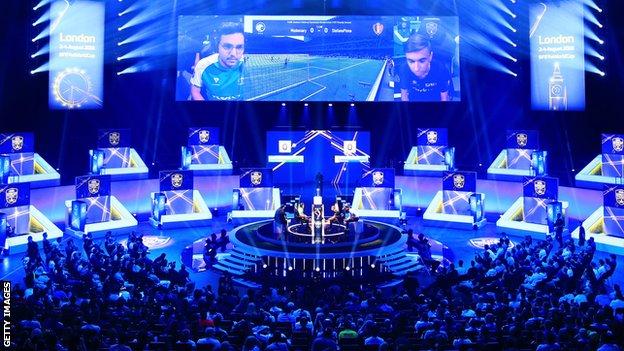 "Anyone can enter so it's thousands upon thousands of entries but I knew I could win it," he added, "It's extremely competitive and you have to practice to get that extra edge.
"It's a passion and you have to be dedicated. I spent over 250 hours behind the wheel practising. I felt I had a point to prove and I wanted to show the sport that I love that I wasn't finished yet. That was my motivation."
The official World Rally Championship game is one that anyone can purchase on the high street, and anyone can enter the WRC ESports series to see if they can compete. As inclusivity comes, its right up there with any sport in the world.
It has the thrill of a real rally, with a multi-stage event to determine the winner. It's about having the speed and having the mental strength to hold your nerve.
"Compared to an actual rally car, the game isn't an accurate simulation, it's more of an arcade," says Armstrong "but you can change your set up to suit your driving style and you need huge amounts of concentration.
"You have to learn the stages too, just like in real life. When you're not racing you miss that edge, so the competitiveness fills the void.
"It's not just people messing around. It's long stages and it's over 25 minutes of driving, pushing yourself to the limit."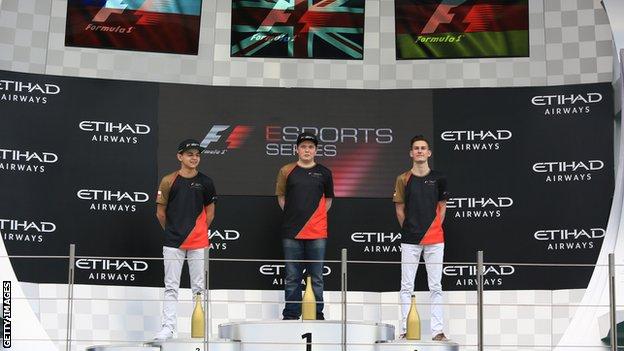 Esports are growing, and fast. Premier League football teams are signing players for global FIFA tournaments, and in motorsport, Formula One has followed a similar route, signing Sim racers to compete for a virtual World Championship.
But what about Armstrong's real-life WRC career? Despite money remaining an issue, will his virtual success open doors?
"We met a few people when I was over in Germany for the final but it's too early to see if we could get back in a real car," admits Armstrong.
"We'll just have to see what happens. Hopefully I can get lucky and get something sorted."
So, a return to physically racing may still be a dream for now, but no matter what happens Armstrong can always say he's a World Champion.