British MotoGP: Marc Marquez prepares for wet weather at Silverstone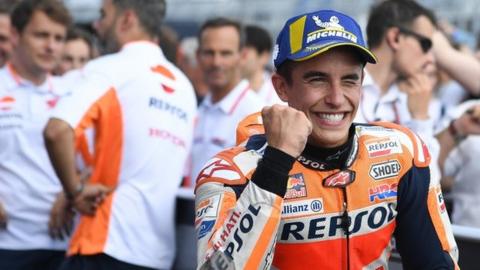 Marc Marquez is preparing for bad weather at Silverstone as he looks to extend his MotoGP lead at the British Grand Prix this weekend.
The Spaniard, 25, is bidding for a third consecutive title and leads by 59 points with eight races to go.
The British MotoGP will take place on Sunday from 13:00 BST and heavy rain is forecast.
"At Silverstone, the weather is another opponent to take into account," the Honda rider said.
There were also heavy downpours during practice at the most recent race in Austria two weeks ago, where Marquez finished second behind compatriot Jorge Lorenzo.
"After a long time without the chance to ride in the rain, Austria confirmed that we can be fast in wet conditions," Marquez added.
"That's very good in view of a race in the UK! The track has been resurfaced, and that should be a good help in general for the performances."
Ducati's Italian 32-year-old rider Andrea Dovizioso, who won at Silverstone last year, is also mindful of the rain.
"The British circuit is challenging for lots of reasons - tyre wear, energy required, the changeable weather conditions," he said.
Meanwhile, Yamaha's Valentino Rossi, who is second overall and won in wet conditions at Silverstone in 2015, believes he will struggle to match Marquez whatever the weather.
He said: "I'm second, I think that is a good position, but I think it will be hard to keep this position to the end.
"The biggest problem is I am not fast enough at this moment to put Marquez under pressure."