Manx Grand Prix 2018: Maxwell and Rees win Manx GP races
Last updated on .From the section Motorsport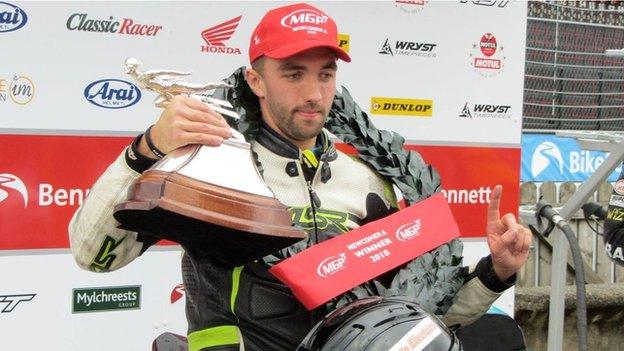 Ireland's Thomas Maxwell has won the opening race of the 2018 Manx Grand Prix on the Isle of Man's TT course.
Maxwell stormed to victory in Newcomers Race A, to follow in the footsteps of previous winners like Ian Hutchinson, Michael Dunlop and Carl Fogarty.
The Yamaha-mounted rider said: "The wind was so tough and I was panicking when my petrol light came on near the end. It's brilliant. I'm delighted".
Steven Haddow finished 12.8 seconds behind despite a 30-second penalty.
York's James Field completed the podium places on his Kawasaki.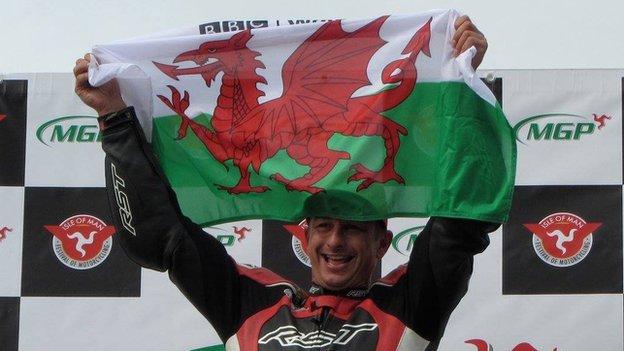 Meanwhile, Michael Rees, from Aberdare, won the concurrently-run Newcomers Race B ahead of James Hind and Barry Sheehan.
Rees said: "I've given up so much for this moment and made so many sacrifices. I am so happy.
"The wind was immense, literally blowing you off line. I am absolutely over the moon."
Veronika Hankocyova, from the Czech Republic, finished 10th and fulfilled her ambition of a 100mph lap on her final circuit of the race.