Andrew Dudgeon: Manx racer home after crash at Macau Grand Prix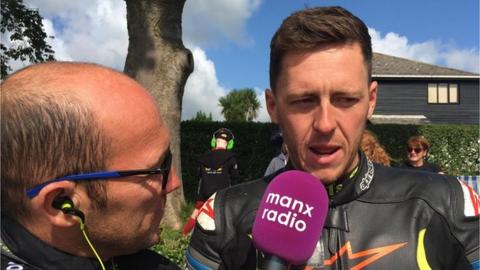 Isle of Man racer Andrew Dudgeon is being "spoilt" after returning home to continue his recovery following a crash at the Macau Grand Prix.
The Manx rider was injured during the opening qualifying session for the 2018 event earlier this month.
The former Manx Grand Prix winner suffered spinal injuries in the crash during his debut appearance in China.
His team confirmed he was back at home in Ramsey after being checked by doctors in Liverpool.
Team Slick Performance Racing manager Robbie Silvester said: "Andy is in bed... eating cake and drinking tea."
Meanwhile, fellow competitor Raul Torras, who suffered a broken collarbone and ribs in a separate crash in Macau, has confirmed on Twitter he is receiving physiotherapy for his injuries.
The event was won for a third time by English racer Peter Hickman.