Sophia Florsch: German driver to be in all-female Le Mans 24-hour team
Last updated on .From the section Motorsport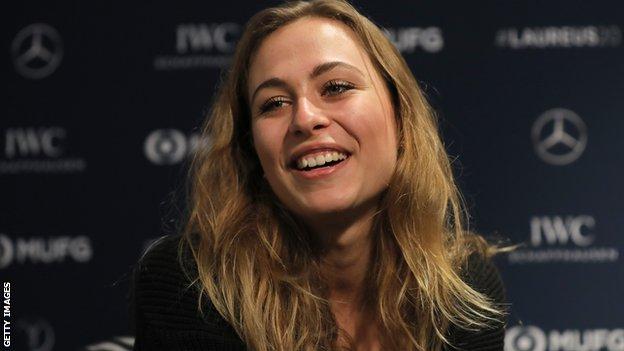 An all-female team including Sophia Florsch will compete at this year's Le Mans 24-hour race.
She will line up with Alfa Romeo F1 test/development driver Tatiana Calderon and Briton Katherine Legge.
They will drive in the LMP2 category for Richard Mille's Racing Oreca team.
Florsch said on social media: "Yes! I am racing this high class superduper motorsport event. Ready to rumble girls."
Legge, 39, is an experienced sportscar driver who has competed in the Daytona 24 Hours event in America in all-female line-ups for the past two years.
Calderon, 26, raced in Formula 2 - Formula 1's undercard series - last season for the Arden team.
They all currently compete in the Oreca car in the European Le Mans Series of endurance racing.
The Le Mans 24-hour race is one of motorsport's biggest events, which sees many top drivers competing.
Last year's race was won by a team including two-time F1 world champion Fernando Alonso.
The 2019 event also saw the first all-female line-up compete in the famous race, finishing in 39th place.