The innovation cycle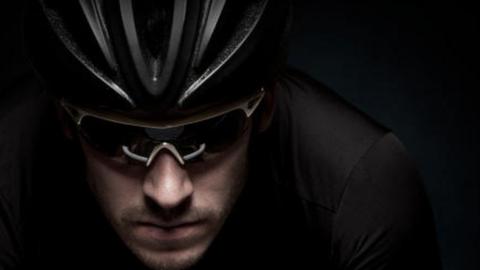 The world's greatest road cycling event is about to move up a gear - if sprint specialist Mark Renshaw has his way. The Australian wants to see yet more technological innovations in the Tour de France, to give viewers a sense that they're almost a part of the gruelling battle to wear the yellow jersey up the Champs Elysees.
The 2015 Tour gave us a glimpse of what might be in store, when onboard footage from miniature cameras showed a dramatic crash in the early stages, with riders banging wheels and tripping over one another at speed on the slippery road.
That footage - part of a deal which race owners ASO did with Go-Pro to attach cameras to 11 bikes - provided quite a ride for the viewer. But it wasn't live, with vision being uploaded at the end of each racing stage. It's expected that such drama will be broadcast live before too long.
Just as GPS data, onboard cameras and stunning video graphics revolutionised the broadcast of the America's Cup World Series catamaran racing, Renshaw wants Tour de France viewers to get closer to him and his colleagues.
"This year's Tour de France had some live telemetry with power, speed - those kind of things," says Renshaw, who also likes the technology used in Formula 1 broadcasts.
"I'm all for opening up that dimension of racing. I think the viewer at home needs to see these things. Everything should be broadcast - even the conversations with team riders. The quicker we can get it out there, the quicker our sport will grow."
The 33-year-old Australian, who will be riding for the Team Dimension Data team in 2016, wants viewers to have a better insight into what riders experience as they push their bodies and bikes in the world's toughest road-racing environments. It's a belief he has held for some time and, he insists, he's not been influenced by the views of his new team sponsor, Dimension Data, which is the official technology partner of the Tour de France.
The 2015 event was a glimpse into the way technology promises to revolutionise cycling coverage, and not just with those Go-Pro cameras. Dimension Data placed GPS trackers beneath every rider's saddle to collect accurate real-time data for fans, broadcasters and the media. The system tracked each rider's speed and relative position, and all of this information was available live through the Internet. It's estimated the 198 riders in 22 teams generated 42,000 geospatial points and 75 million GPS readings.
Until now, innovation in road cycling has moved at a relatively steady pace. With the governing body, the International Cycling Union, keeping a firm grip on technical regulations, the sport has been quietly evolving for more than a century. State-of-the-art bike frame construction changed from steel to aluminium to advanced carbon fibre, which makes them incredibly stiff and light. Bikes have 22 gears to maximise speed on flat or mountain stages and tyres that either minimise rolling resistance or combat cobblestone roads. Riders wear ultra-light shoes with adjustable dials or ratchet straps and titanium cleat nuts.
Competitors ride sleek machines that are almost identical in size and weight (a minimum of 6.8 kilograms), regardless of whether they're used by sprinters or mountain specialists. The most obvious changes over recent years have been to helmets, skin suits and wheels, which have been designed to reduce wind drag. Even modern braking systems are mounted in a way to minimise wind resistance. Superior aerodynamics are especially important in time-trial stages, where every hundredth of a second saved can be vital.
The most important recent innovation was shifting from cable to electronically operated derailleurs, allowing riders to make smoother and more assured gear changes. A fully wireless version, equipped with Formula 1-style "paddles" to change gears, was fitted to the bike Frenchman Alexis Vuillermoz rode to a stage win in the 2015 Tour de France. The next push is to fit road racers with disc brakes, which have been available on road and mountain bikes sold to the public for many years. Although this technology would improve performance, Renshaw doesn't think it's a good idea for Tour bikes. "I'm absolutely against it," he says. "We don't need that kind of braking power."
Where electronics have made a big difference is in improving rider performance. In both training and racing, competitors use bike-mounted computers to track their heart rate, acceleration, endurance, pedal speed and other performance data.
Racers rely on "power meters", which measure how many watts are being produced, because they indicate how much life they have left in their legs for a long climb or finishing sprint.
Team trainers use data to develop programs that help riders overcome inherent weaknesses and capitalise on natural strengths.
All of them - even designated sprinters such as Renshaw - need to prepare their bodies as endurance athletes. At the 2015 Tour de France, every finishing rider pedalled for 3,360 kilometres over three weeks.
One area that is ripe for innovation is how riders communicate with their teams and teammates during a race.
At the moment, a delayed and muffled conversation is only possible through a simple two-way radio activated by a button under the rider's jersey. In the future, it's likely that team managers using GPS tracking will be able to send clear and immediate messages to riders to attack or defend, which will add a new dimension to racing strategy.
But while technology will undoubtedly help teams and riders develop winning tactics in future stages of the Tour de France, Renshaw expects success will always depend on more human factors.
"It's all down to the rider, really," he says. "In the race you can see what other guys are doing, and there's so much foxing amongst riders. It's not as easy as the director saying, 'Go 100 per cent now'. Cycling's just not that easy. It would be great if it was."
Mark Renshaw has been a Mazda ambassador since 2012.