Training to win in one of the world's toughest sports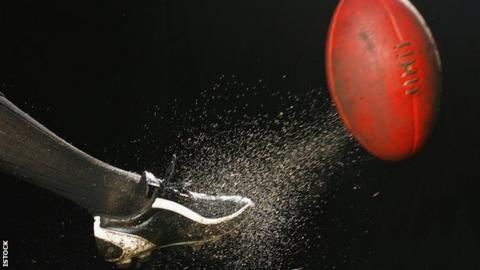 This is the last article in a four-part special partnered content series presented by Mazda that looks at the relationship between technology, innovation and sport.
Australian Football is one of the world's toughest sports. Elite players in the Australian Football League are expected to display sublime football skills under stress, and possess physical strength, resilience, agility, game awareness and endurance.
The hardest-working players run 15 or 16 kilometres every game over 22 rounds of the home-and-away season. Then there is the training.
Every pre-season, players begin the hard work of building fitness levels in November and try to maintain these standards throughout the season until September, while dealing with the demands of interstate travel, potential illness and the constant threat of injury.
If their team successfully negotiates a path to the Grand Final, they continue to play and train for a month beyond this. And if these demands are not already enough, players are being tested even more in 2016 with a limit on the number of interchanges allowed during a game (from 120 to 90) and no fresh substitutes.
What started as a game to keep cricketers fit during the winter break has turned into the ultimate test of power, durability and mental strength. And every year, Australian Rules clubs try to find an edge that will give their footballers a telling advantage over their opponents.
As well as developing and refining their game strategies, coaches and players look for any innovation that will help their players be ready on match day - in both body and mind.
Captain's journey
Andrew Swallow has seen these developments first-hand. He's playing his 11th season of AFL in 2016. A junior star from East Fremantle, near Perth, the 28-year-old captain of the North Melbourne Kangaroos is one of the most respected players in the league.
Despite Swallow missing some football due to injury, including a whole season with a torn Achilles tendon in 2013, the Kangaroos have seen success in recent years, making the Preliminary Final in both 2014 and 2015.
"I look back on the pre-season I did in my first year and it was almost a joke," Swallow says of his first year at North in 2006.
"I'd get to half-time and I was just cooked - I couldn't run any more. Every year since then we have really increased the amount of training we do."
As well as timed one- and two-kilometre runs, players endure "game-sense drills", which are mini-matches of 15-a-side rather than the usual 18-a-side.
"[The coaches] give you a couple of different scenarios but it's almost like you're playing a game. The volume of everything we do has probably increased tenfold."
North's pre-season training has developed beyond the playing field, aided by a $15 million fitness facility that opened at the club's Arden Street headquarters in 2009.
Players now do a lot of cross-training, boxing, swimming and a cardio circuit that combines work on a hi-tech spin-style bike with old-fashioned chin-ups and push-ups.
"During the season we get most of our training load from actual games," Swallow says.
"Early in the week we don't tend to do a lot. We'll go for a light trot, do some sort of light skills [training], but it's not a lot of movement. At one session during the week we'll go pretty hard for an hour or so, but apart from that it's all pretty light during the year. It does take its toll on the bodies."
Player welfare
Swallow says the team employs a number of sports scientists and fitness experts to help players survive the long AFL season. One of the machines they use is the AlterG "anti-gravity" treadmill, which Swallow says is vital to help players recover from leg injuries.
"It has a big bag you sort of sit yourself into and it inflates," he says. "It enables you to run at less than your bodyweight, which takes the pressure off your legs. When I did my Achilles I spent a heap of time on that."
North has also introduced a "wellness form", which players fill in every day to keep track of sore spots on their bodies as well as their moods. Experts dissect the information to check player welfare and try to pick trends that may indicate a potential long-term injury or issue. They are particularly keen to pick up signs of head trauma, a constant threat to players in high-impact sport.
Swallow says trainers do mini-tests on players every week, checking things such as hamstring flexibility, to ensure they are at peak fitness. Players also wear a GPS and heart-rate monitor in every session.
"Everything nowadays is measured," he says. "They want to put a number to everything. It helps them to be able to pick up and identify things, and keep guys on the park."
Mental conditioning
Keeping players' minds on the job is a big task for sports psychologists. Swallow says North recently introduced a "mental conditioning" programme that involves the whole team, which he thinks will be a valuable tool throughout the season.
"We train our bodies but we don't do enough training on our minds," Swallow says. "I suppose the crux of [the programme] is to be able to make sure during a game, no matter what's going on, we're able to continue to refocus and not lose concentration and drift away from the task at hand.
"It's all about getting the guys to actually perform what they need to do as close as they can to their maximum ability. We talk about how a lot of the game is actually played above your shoulders. As much as you need to be fit, if you can't control your mind and stay on task it doesn't really matter how you've recovered or how well you've conditioned your body - it's not going to help you."
The ultimate goal
Swallow says the hard work - playing, training and preparation - is all about one thing.
"It's always about winning a Premiership," he says. "I think it would just top off everything I've done so far and all those childhood dreams I had, watching footy in Perth.
"I've been very blessed and very fortunate to play as long as I have. I've achieved some things in the game but I suppose [winning a Premiership] is the ultimate. I think I'd be a very happy man if I was ever to do that."
Mazda has sponsored North Melbourne since 1999 and Andrew Swallow is a Mazda ambassador.