NI netballers finish eighth at the World Cup
Last updated on .From the section Netball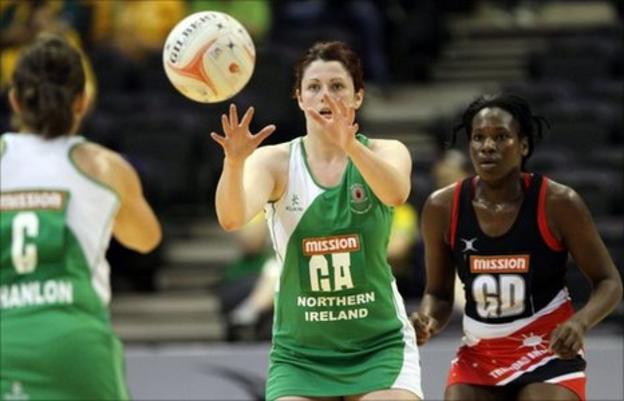 Northern Ireland's netball team finished the World Cup in eighth place after losing Sunday's play-off clash against Trinidad & Tobago 56-38.
Elaine Rice's side looked jaded in Singapore after Saturday's narrow defeat by South Africa.
The Northern Irish were able to convert only 38 of their 71 scoring chances compared to Trinidad's superior ratio of 56 from 65 shots.
Captain Noleen Lennon was forced to have a stint as keeper during the game.
The more accurate Trinidad steadily established their lead, which was 14-10 at the end of the first quarter and 30-22 at half-time.
There was still some hope for Northern Ireland at the long interval but the third quarter put paid to any chances of them springing a further upset in this World Cup.
Their Caribbean opponents took it 14-5 and although the last quarter was almost even, the edge had gone from the game by that stage.
Defenders Micaela Brunton, possibly playing her last international before retirement, and young Fionnuala Toner had good games for Northern Ireland.
Trinidad therefore finish the tournament one place above their eighth seeding while Northern Ireland ended four places higher than their world ranking of 12.
The Northern Irish made the quarter-finals for the first time in their history.
Captain Lennon contributed 177 of her team's 259 goals in what was her second World Cup having played as a teenager in Jamaica 2003 when Northern Ireland finished 19th.
"We didn't play particularly well but there was undoubtedly a fatigue factor from having such a hard game last night," said Rice.
"The players are battered and bruised and disappointed but finishing eighth in a World Cup is a real achievement and I feel this squad can develop further."
Northern Ireland squad: Noleen Lennon (capt), Micaela Brunton, Fionnuala Toner, Frances Campbell (all Belfast Ladies), Lisa McCaffrey (vice-captain), Gemma Gibney, Hannah Irvine, Oonagh McCullough (all Graduates), Caroline O'Hanlon, Kyla Bowman, Deborah McCarthy, Laura Mason (all Larkfield).