Northern Thunder start with win over Yorkshire Jets
Last updated on .From the section Netball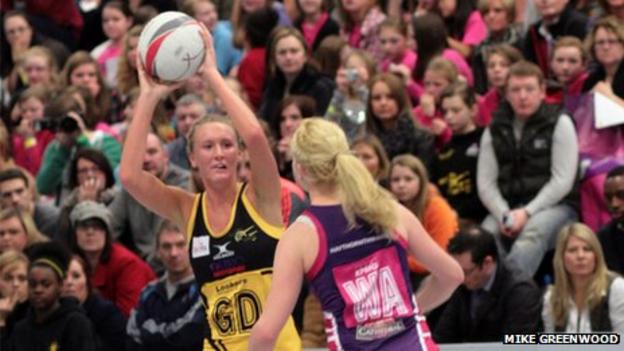 Northern Thunder began the new Superleague season with a 57-36 win over Yorkshire Jets.
Playing their first competitive game at their new home, the Manchester Thunderdome, they led from the first quarter and never lost the advantage.
Head coach Tracey Neville told BBC Radio Manchester: "I can't say I'm happy with performance.
"There were a lot of ball handling errors which I've not seen in our team for the last few weeks."
Last week Thunder warmed up to the season by winning the Fast Net Grand Prix against the same side, 35-21.
It was new head coach Neville's first Superleague game in charge of Thunder since taking charge in October after moving from Northumbria.
Speaking about the game the 35-year-old added: "I think the girls were nervous with the build-up to the game and the close encounters we've had with Yorkshire Jets over the last few weeks.
"What we did is we capitalised on the game when we should which helped and in the third quarter we wore them down."
Neville's brothers, former Manchester United right-back Gary and Everton captain Phil, were in attendance, as was Red Devils veteran Paul Scholes.
Phil said: "We're here tonight to support Tracey.
"She's been obsessed with netball all her life and she had the courage to fulfil her dream by playing netball for England, and now being a coach and a successful one."
Older brother Gary added: "The family have always loved sport. We grew up watching my dad play cricket and going to United on the terraces.
"Also my mum was playing netball, rounders and hockey so we've grown up as a sporting family and we support each other always.
"She'll be very intense I imagine. I know she's played at the highest level which always helps.
"I think she is able to pass down the enthusiasm and work ethic she's got she's got to her team members."