Northern Thunder maintain unbeaten start in Superleague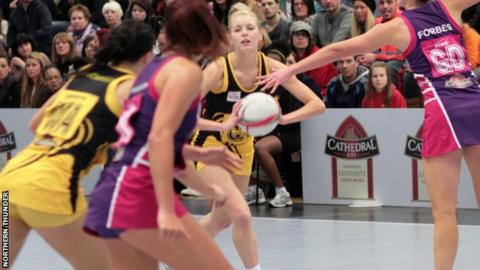 Northern Thunder maintained their unbeaten start to the season with a convincing 67-48 win over Surrey Storm.
Both sides came into the match unbeaten, but Thunder now sit three points clear at the top of Superleague.
"For us we went hard from the start and I think we started the game brilliantly," head coach Tracey Neville told BBC Radio Manchester.
"We've been working a lot on what they do and and their set-ups and defensively I think we cut them out."
Thunder led the match from the opening quarter and never looked like relinquishing their advantage, ending up with a 19-goal winning margin.
It means the Manchester-based club are the first to secure their place in the top four for the second phase of the season.
After five rounds in Superleague, Thunder are the top scorers in the competition and Neville is pleased with the ability she has in the squad up front.
"We have got some phenomenal shooters, and I think every single shooter that hit the court made their impact on the game," she added.
"They don't get that much court time and it's what impact they can do when they go out there and I think every single shooter had an impact of their defence.
"I'm starting to learn a lot about this team, what they can do and the impact they have on the game.
"When we get to the second phase we'll be playing the top four teams so every game is going to be difficult for us so for me I need to expose as many players as I can."