Netball: England beat Australia to seal historic first series win
By Jessica Creighton
BBC Sport at Wembley Arena
Last updated on .From the section Netball48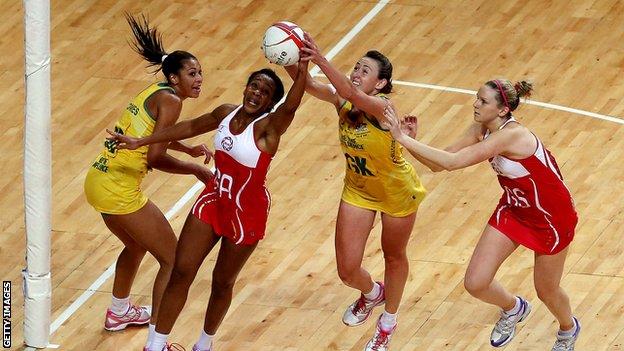 England's netball team claimed a first series win against world number one side Australia with a 51-49 victory at Wembley Arena on Wednesday.
Anna Mayes's side made history by winning the second Test against the much-fancied visitors.
It followed Sunday's 58-53 victory in the first Test - which was only the third time England had beaten Australia.
Victory at Wembley gave the hosts a 2-0 lead in the three-match series.
England, ranked third in the world, will play their final game against 10-time world champions Australia at the National Indoor Arena in Birmingham on Saturday.
Captain Pamela Cookey said: "It's amazing. The girls really put in a performance tonight. I'm so proud of them."
But she now expects her team's high-profile win to boost the sport's status.
"The sport is growing. This week has been amazing. We're glad we can put a performance in to keep building the sport.
"Our goal is the 2014 Commonwealth Games. That is what we are working towards and we're getting there.
"Head coach Anna Mayes has been working so hard with us. The entire support staff have been pounding on us saying, 'you can be better, you can be better'."
Australia, with their historic loss to the home side seemingly still playing on their minds, came out at the whistle with purpose.
In a pacy first quarter, Australia scored the opening goal and ran to a 15-11 lead as England failed to handle the Diamonds's quick-fire passing.
But England fought their way back to 27-26 at the interval and continued their momentum to score five goals without reply on the way to a 40-37 lead at the end of the third.
With Australia on the back foot, England were relentless. The home side kept up the pressure with Joanne Harten at goal attack and Kadeen Corbin at goal shooter enjoying success at the net, much to the delight of a rapturous 7,000-strong crowd.
It is only England's fourth win in more than 60 games against the Diamonds but suggests that they may now be ready to challenge Australia's dominance at the top of the world rankings.
"After these performances, we're definitely knocking on their door," Cookey said. "I'm not going to say we are there yet, but if we can do this consistently, we will build towards getting there.
"They have their professional league over there [in Australia and New Zealand]. Our Superleague is getting bigger and bigger and the more players we can get playing the sport, the more competition we have."
Starting line-ups
England: Joanne Harten, Pamela Cookey, Sasha Corbin, Serena Guthrie, Sara Bayman, Ama Agbeze, Eboni Beckford-Chambers
Australia: Caitlin Bassett, Erin Bell, Madison Browne, Kim Ravaillion, Renae Hallinan, Chanel Gomes, Rebecca Bulley