England's series win over Australia will change netball - Tracey Neville
By Emily Croydon
BBC Sport
Last updated on .From the section Netball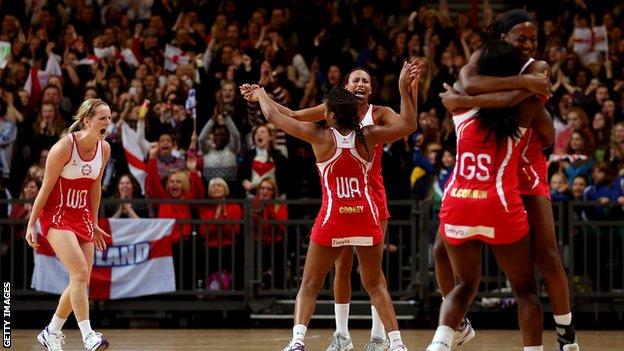 Former England player Tracey Neville says a first series win over Australia is a defining moment for the sport in England.
The first Test in Bath ended 58-53, with the third game on Saturday.
Neville told BBC Sport: "To win the series is massive for England in respect to the kudos that will bring."
It has been a historic week for the England side, who had previously only beaten Australia twice - in 1981 and 2010.
But now they have defeated them twice in four days and dream of a series whitewash, with the teams meeting again at the National Indoor Arena in Birmingham on Saturday.
Neville, who played 81 times for England and is the sister of footballers Gary and Phil Neville, said: "The disappointment every time England have come off the court against these top sides has been a massive weight on their shoulders over the last two years.
"Now they feel as if they've moved on."
Anna Mayes's side have shown flair and ability but also a determination and grit, coming from a 15-11 first-quarter deficit to win the second Test.
They have shown they are no longer fazed by the world champions' presence on court and this bodes well with the Commonwealth Games in Glasgow only 18 months away.
England's best performance at the Commonwealth Games is a bronze medal, which they have achieved three times, in 1998, 2006 and 2010, but after this series victory there is a belief in the netball community that they can improve on this.
After the second Test, coach Mayes told the BBC: "It's great momentum for the Commonwealths but we have to keep our feet firmly on the ground.
"We have to keep ourselves on task and ensure we are building towards 2014 and 2015 (the World Championships).
"We have to back up these performances otherwise they're not worthwhile."
Neville has been impressed with Mayes, who was appointed to the role of head coach in November 2011.
"What Anna Mayes has done is set a programme out which is constantly challenging the players and coaches to have passion for England netball," she said.
Neville believes this comes from the fact Mayes is a home-grown coach, who has come through the system in this country. She also points to a plan dating back around 10 years to establish England among the sport's elite.
Neville said: "England went to Southern Hemisphere coaches to try and replicate a plan in respect to the practices they are doing in their countries.
"Obviously that was unsuccessful because the highest place we ever got was third.
"But from that England netball have developed a pool of coaches and what we're trying to do now is develop England netball's style of game."
She says England's style is epitomised by variety and combines Australia's short, sharp game and New Zealand's spatial awareness off the ball.
Australia coach Lisa Alexander told the BBC that England's rise is "great for the sport from an international perspective".
She said: "This is unfamiliar territory for Australia and how we respond is going to say a lot about how we are going to prepare ourselves for the next 18 months leading into the Commonwealth Games."
England's ability to match the best in the world has also undoubtedly been aided by the fact some of the English players - goal shooter Joanne Harten and defenders Eboni-Beckford Chambers and Stacey Francis - have moved to Australia or New Zealand to play in their league ANZ.
Neville believes beating Australia can have an impact on the game on home soil at both elite and grassroots level.
She said: "The attractiveness of our sport is you don't have to play at the top level to enjoy it or get something out of it. Moving forward this will increase participation no doubt."
The number of people playing netball nationally has already gone up by 30% over the last three years thanks to schemes like "Back to Netball" run by England Netball.
Both tests against Australia were watched by sell-out crowds and the series has also attracted additional media coverage, with commentary on BBC 5 live Sports Extra as well as the matches being shown on pay television.
"We've got a range of media that people all buy into," said Neville.
"We're on Twitter, we're on Facebook, we're on the radio, we're on television.
"Now people are hearing the excitement and the kudos the sport is getting and it's even in the papers.
"For us just to get a little bit of that attention, the feedback in the media has been so positive and hopefully we can continue that and keep getting constant interest in the game of netball."
And Neville, who won bronze at the 1998 Commonwealth Games with England, says those who have seen the national team play over the last week will have seen plenty to attract them to the sport.
She points to the physical demands of the sport, the intensity, speed and athleticism, the intricate tactics and the precision of the shooting, where, unlike in basketball, the players are not aided by a backboard.
She also says people will have seen that netball is a "sexy sport" and this will help it appeal to women.
"There's a massive culture of having to be skinny and not athletic," she explains.
"In netball the dresses are flattering and make athletic bodies look aesthetically pleasing and, because of the Olympics, these people have started to be viewed as stunning.
"That will appeal to guys but also to girls who can relate to that and see the health benefits."
Netball is a sport on a journey and this has been recognised by Sport England and backed with increased funding. Could that journey end with England becoming the world number one team? On the evidence of this series they are not far off.