Team Bath's Pamela Cookey praises team character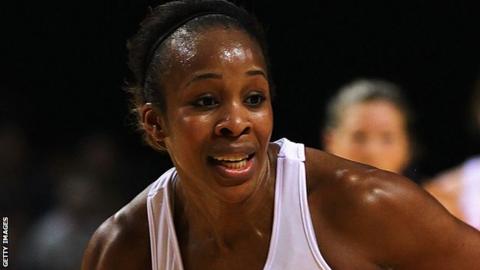 Team Bath goal attack Pamela Cookey has praised her team's character following their 53-43 victory over Manchester Thunder to reach the Grand Final.
Bath, looking for their fifth title in eight years, held a slender 25-22 lead going into half-time.
And they pulled away after the break to beat defending champions Thunder to reach the final at Worcester.
"It was hard work but we showed strength, character and pulled it through," Cookey told BBC Radio 5 live.
"In patches we forgot what our game-plan was and what we knew we can do well.
"They came out hard and rode us the whole game, but when we got on top of it and pushed on that was where we won it."
Bath are waiting to discover who they will face in Saturday's final, with Surrey Storm facing Celtic Dragons on Monday night for a chance to face Cookey's team.
And the England captain believes that her team will be prepared whoever they play in the Superleague finale.
"We have to beat either one, whoever gets out on court," she added.
"We've got our plans in place, and we are ready for whoever gets there and we'll see them on Saturday."