Team Bath: Jess Thirlby urges against complacency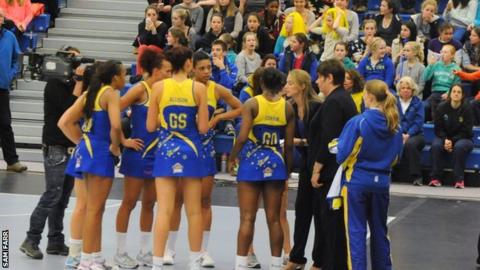 Team Bath head coach Jess Thirlby has urged her team to forget their past successes when they face Celtic Dragons in Saturday's Superleague final.
Bath, who reached the final with a 53-43 win over Manchester Thunder on Sunday, are on course for their fifth title in eight years.
Thirlby has urged her side to avoid complacency at the Worcester Arena.
"We've got a great history, but it's about making new history on Saturday," Thirlby told BBC Radio Bristol.
Bath's remarkable run to the final has seen them finish top of the regular season table, before repeating the feat in the post-season Showdown League.
They remain unbeaten this campaign, and Turley says that her team's appetite for success is "relentless".
"After every performance we are never satisfied," the former England international said.
"We do look at the things we've done well, but after Thunder we left the court with very little celebrations from our players.
"So there's definitely no complacency. The history's great, but you have to earn the right to win the game."
Bath face a Dragons side who reached the final for the first time in their history after defeating Surrey Storm 62-52 in the semi final.
And Thirlby insists her players will be prepared for whatever their Welsh counterparts throw at them come Saturday.
"I think they've been one of the harder teams to overcome, mainly because of the style of play and the fact they have a tall shooter," she commented.
"What they've done is expose a weakness in the majority of teams, including ourselves, and if you can't combat that you'll struggle.
"It means their possession game is really high percentage so if you give them the ball, they will almost always take it through to a shot, if not a goal.
"Your full-court defence becomes critical, and that's something we've been working on irrelevant of Celtic Dragons, so that's put us in a really strong position."