Superleague final: Celtic Dragons 56-62 Team Bath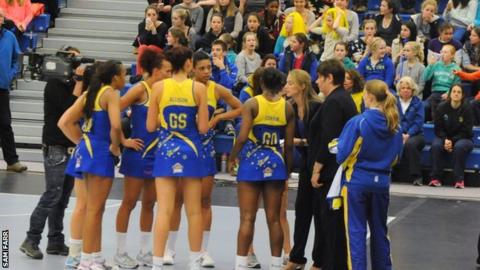 Team Bath secured their fifth Superleague title in eight years with a hard-fought victory over Celtic Dragons at Worcester Arena.
Dragons, who were in the final for the first time, won the second quarter by two points to lead 31-30 at half-time.
But Bath fought back to take a two-point advantage into the final quarter.
And although the Welsh side kept themselves in the game with three successive goals, Bath stretched clear in the final two minutes to win it.
Bath captain Asha Francis told BBC Radio 5 live sports extra: "I think there were a few points where we made some key interceptions and luckily we got them in down the other end.
"There were some crucial points where we could have let them get away from us, where we brought them back and then when we were ahead we always stayed that little bit ahead and it made the difference in the end."
TEAMS
Dragons GS Cato, GA Moseley, WA Drane, C K Jones, WD James, GD Williams, GK Hale. Subs: Thomas, Murie, Lewis, K Jones, Dyke.
Bath GS Corbin, GA Cookey, WA A Francis, C Ritchie, WD Guthrie, GD S Francis, GK Cook. Subs used; Davis, Morgan. Subs: Craig, Masterson, Parson, Stewart, Trounce.
Quarter-by-quarter scores: 15-16, 31-30, 44-46, 56-62