England netball captain Pamela Cookey's double life
By Jessica Creighton
BBC Sport
Last updated on .From the section Netball
From a demanding job to captaining the England netball team through one of its most successful periods, Pamela Cookey leads a hectic double life.
A lack of funding in the sport means the players have no option but to support themselves financially.
It means that every minute of Cookey's day is pre-planned, as she balances the demands of being an international sportswoman with a hectic career.
"I've become amazing at time-management," she explains to BBC Sport. "I segment my time so I know what I need to do and when I need to do it.
"It does get hard at times, this balancing act. But as long as I know I've got my routine, then I can make it work."
With Cookey at the helm, England have enjoyed unprecedented success. As well as superb victories over the ever-dominant Australians, they are unbeaten this year and have moved up to third in the world rankings.
In their last Commonwealth Games outing in 2010 they won a bronze medal, but Cookey is convinced the team are stronger ahead of Glasgow 2014.
"It's a different team. Results have shown we are stronger and we're a lot more cohesive. The new coaching staff has brought out the strength in all of us. I don't think we had this strength in depth before," Cookey insists.
"The 3-0 against Australia was awesome and gave us so much confidence - it's never been done before. The girls are looking really sharp, really vibrant."
Cookey has been involved in the England set-up for more than a decade now and made her senior debut nine years ago. As England have strengthened their footing on the world stage, the sport's profile has also risen across the country, which puts them in a prime position to overcome sixth-in-the-world South Africa in the forthcoming series.
"It's changed dramatically. [Head coach] Anna [Mayes] has made such a difference to the senior squad and netball across all levels - what she wants to bring to the squad and how to make us better," says Cookey.
"England Netball [governing body] are doing more too - in terms of Back To Netball and all the events to get more people into the sport. And the media has more interest in us."
But Cookey, who also plays for domestic league champions Team Bath, admits that while there has been an increase in participation figures and the sport has been given more funding, the players are still a while off becoming full-time professionals like the Australians and New Zealanders, who have long headed up the world rankings table.
A typical day for Cookey involves two high-tempo training sessions either side of a full shift at work. Her morning alarm sounds at 5.50am and she doesn't put her head back onto her pillow until about 10pm. Thoughts of clubbing rarely enter the 29-year-old's head.
"There's no chance of going out the night before - I can just about get up now!" Cookey laughs after her first training session of the day at Bath University's Sports Village. "Sometimes it's good because you get out of bed and you just have to get on with it. Other times you're half-asleep so don't realise how hard you're working.
"You have to put your all into it, otherwise you don't get the full benefit. We have a good team ethos here and we pull each other along. There'll be some days when you're tired and you are struggling, so you've just got to help each..." Cookey's phone alarm interrupts her. It's 7.36am and she should be showering and getting ready for work.
From Bath, Cookey weaves through morning rush-hour traffic to Airbus's Bristol base. By 9am Cookey is starting the second chunk of her day, running a team which audits buildings to ensure staff are in a clean and safe working environment.
"My colleagues are really supportive [of my netball career]. They say: 'We saw you on TV the other day,'" says Cookey, who joined the company five years ago after starting on their graduate scheme. "What I do is very demanding, so to know my colleagues support me makes it a little bit easier.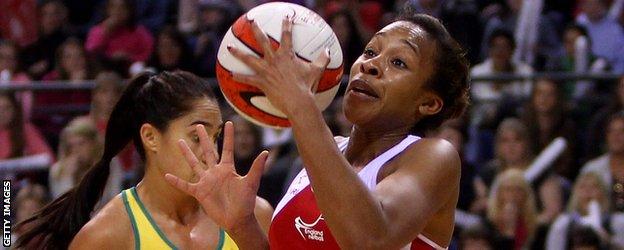 "All that I've picked up from sport has transferred to my job: teamwork, leadership, determination to do well," she adds as she runs her finger across the top of a picture frame to test for dust.
"I've made lots of sacrifices. Loads. Especially with family and friends and spending time with them because I'm running around the place from one thing to another."
At 4pm Cookey is meant to finish her day at work. But her meeting has overrun and she's 20 minutes late. Now it's another rush-hour dash back to Bath for her evening training session.
By 7pm she has finally finished - and she's still smiling. "It is difficult sometimes to keep going throughout the day, and at lunch I did have a little 'woah'," she breathes out strongly to demonstrate her midday slump. "But then I had some food. I'm still buzzing now."
It's clear that despite the sacrifice and the long days, Cookey thoroughly enjoys her double life.