Anna Mayes: England netball coach wants more from side
Last updated on .From the section Netball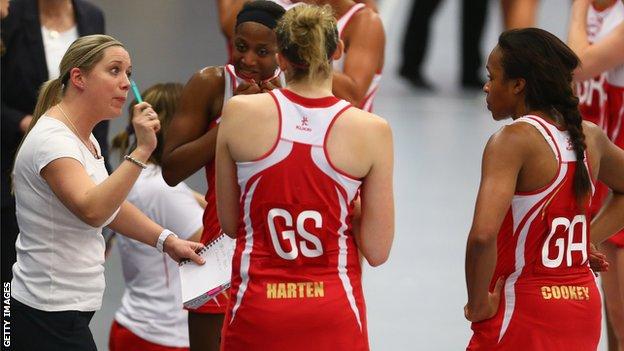 England head coach Anna Mayes says her team's recent success has "raised the bar in terms of expectation".
Looking ahead to Wednesday evening's encounter at Wembley Arena, Mayes told BBC Sport: "A win is a win.
"But ahead of the Commonwealth Games, aspirations are bigger than ever, especially after our 3-0 series win over Australia early this year."
England whitewashed the world number one side in January and are looking to do the same again in the current three-Test series.
Mayes's team have been drawn in Group B for the 2014 Commonwealth Games and their coach is keen to ensure that they are operating at their peak when they lock horns again with both Australia and South Africa in Glasgow next year.
She added: "We want to continue the momentum psychologically and continually expose our squad to this style of play.
"I have to pick 12 players for the Commonwealths so it's important that we build a strong team and have lots of defensive and attacking options."
And while admitting that there is still a lot of work for English netball's governing body to do, Mayes believes that the sport is in good shape.
"All credit to the governing body for developing interest in and enthusiasm for the game," she said.
"We have more bums on seats than ever and there was a sea of red watching us in the first test in Bath."
The third and final Test takes place at Worcester on Friday.
The England coach also took some time out to answer some of your questions:
Anna, what is England Netball working on between the first and second Tests of the south Africa series? Claudia
"We had a debrief on Sunday and scrutinised the game, like we always do. Then we trained well on Monday and Tuesday just like normal. Win or lose, we try to be consistent and do the same things, execute our game plan; defend with conviction and let the ball go in attack."
What's your pre-match ritual? Caty Surtees
"In the day I like to exercise and de-stress. Go the gym or something to clear my mind. Then I like to have an hour and 15 minutes with my assistant going through tactics. We then have a team meeting and try to leave for the match in a relaxed frame of mind."
Highlight and lowlight of your career? Joe Andrews
"Highlight would have to be our series win over the world number one side Australia this year. We demonstrated psychological strength and belief.
"The lowlight is just whenever we lose in the red & white dress really, as we've set such high standards. Specifically losing the Fast5 World Series Final against New Zealand in 2012 as there was a lot of expectation on us."
Do you think enough is done to promote netball & girls' sports especially at primary school level? What could be done? Liz Littlewood
"I think we've been quite fortunate this year and we've worked well with the media to promote a fantastic sport. We could definitely do more to promote netball within the media and through the governing body, using ambassadors for the sport to inspire others.
"There was added interest in sport in this country around the Olympics. Unfortunately we didn't benefit directly from that as we weren't in it. But we're in the Commonwealths and I think that netball is now viewed in a more positive manner."
Have you any words of wisdom to motivate my girls at school? PE Tideway
"Ensure that it is fun first and be the best that you can be. We need to strive for excellence but also get the balance right and have fun."