Queensland netball star Rachel Forbes enjoying Scottish stay

By Keir Murray
BBC Sport Scotland
Last updated on .From the section Netball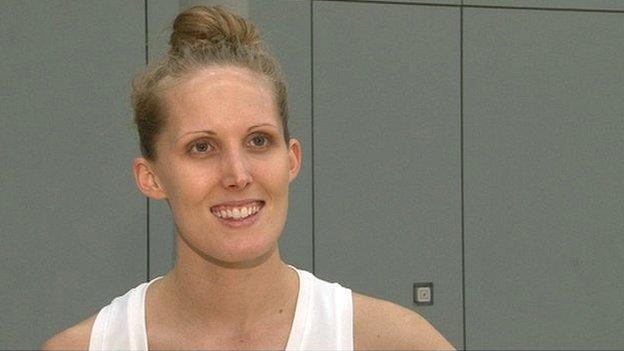 Netball players need a good aim. Rachel Forbes' problem is that she has so many targets.
As a player, the Australian wing defence is desperate to make the final 12-woman Scotland squad for the Commonwealth Games in Glasgow this summer.
Then there's her goal of lifting the Scottish Thistles up the world rankings. And of reaching the World Championships.
Further, she wants more girls in her adopted country to be playing netball than any other sport.
If enthusiasm were the sole factor in realising these goals, she would exceed them with ease. She simply loves her sport.
So how did this 25-year-old twin come to be living, working and playing netball in Scotland?
"I'm half-Scottish. The whole of my mother's side of the family are over here," Forbes told BBC Scotland.
"I was playing in the Superleague competition down in Leeds. I met a couple of the girls in the team and heard the Scottish accent.
"I was asking them all about the Scottish trials and they said to come up and see what it's like, and I thought 'why not?'
"I came along just for a bit of fun, just to see what it was like and fell in love with Scotland. I love it over here!
"I was fortunate to get picked to be part of the squad. It all just came about. Lucky girl!"
If good fortune continues, last month's appalling weather won't have dimmed her enthusiasm.
The woman from Queensland, the Sunshine State, is evidently used to better weather, but an indoor netball court in Glasgow shouldn't differ too greatly from one on the other side of the globe.
Forbes will play in the two matches against New Zealand at the city's Emirates Arena, on Sunday and Tuesday.
The Thistles, with New Zealander coach Gail Parata at the helm, face the reigning Commonwealth champions and will be given the stiffest of tests.
The matches give the squad a chance to impress Parata before she decides who makes the 40% cut in the squad in five months' time for the Games.
"I'm just going to see how it goes until the trials in May," she said.
"It's going to be very competitive but I'm looking forward to the challenge.
"There are 20 girls. We had a few games in Surrey [against Surrey Storm] and we all got to play. We had different combinations.
"The good thing about the squad is there's a lot of depth. Gail could put any team out there and it would work."
Scotland are ranked 12th in the world, while Australia and New Zealand are the top two nations in the sport.
Forbes is relishing facing the Kiwis, both next week and at this summer's Games, with Scotland, New Zealand, Jamaica, Malawi, Northern Ireland and St Lucia all in Pool A.
"I never would have got that opportunity before so I'm really looking forward to it. I can't wait," she said.
"Apart from the World Championships, the Commonwealth Games is the biggest thing for netball so it's such an amazing opportunity.
"To be here in Glasgow, to be able to train here, it's so exciting. Words can't describe it."
Forbes has been living with her mother's cousins - the McKenzie side of her family - in Edinburgh and works part-time with Netball Scotland in Glasgow.
She deals with memberships and helps to promote the sport, which brings us to her ambitions.
For the Thistles, it's to reach the top 10 and qualify for the World Championships in 2015, to be held in Australia.
More generally, her dream is to match the sport's central role in her homeland where she played for Sunshine Coast Lynx and her state, Queensland, in the Australian Netball League.
"Netball is the number one sport for girls in Australia," she said.
"It's extremely competitive and the quality is amazing as well.
"Australia and New Zealand are the leading nations in netball but, having said that, Scotland is on its way up so it's an exciting time to be part of the Scottish squad.
"The aim is to make netball the number one participation sport for girls in Scotland.
"Hopefully I'll help to be a part of that."