Netball Superleague: Team Bath welcome title expectations
Last updated on .From the section Netball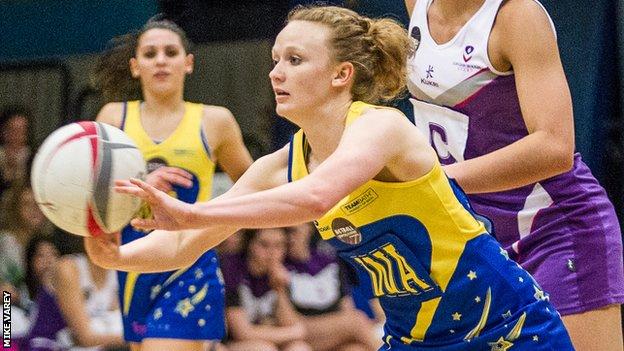 Team Bath midcourter Amanda Trounce says the team welcome the pressure of going into the new Superleague season as title-holders.
"There is a small bit of pressure, but it's what we all want," 26-year-old Trounce told BBC Radio Bristol.
"The team are always demanding more from each other anyway."
Head coach Jess Thirlby's 15-strong squad for the 2014 campaign features six senior England internationals, including captain Pamela Cookey, and eight current University of Bath students.
Leading Bath on court this season is centre and wing defence, Serena Guthrie, who has been promoted from vice-captain.
"We've got a wealth of experience as well as some youth players coming through. It's a really exciting time," added Pontypool-born Trounce, who previously played for Celtic Dragons.
"Bath has always combined the youth and experience really well and it brings success.
"The girls have just been away for the test series [against New Zealand and Jamaica] - that's both England and England A - and there was only the bear seven of us left.
"But without them, we wouldn't have the depth and the experience. Everyone has their role and learns from each other."
Bath start their 2014 campaign at home to Team Northumbria on 31 January.
Team Bath squad 2014
Pamela Cookey - GA, GS; Rosie Allison - GS, GA; Shaunagh Craig - GS, GA; Lauren Dent - GA, GS; Yasmin Parsons - C, WA; Amanda Trounce - WA, C; Jazz Scott - WA, C; Mia Ritchie - C, WA; Serena Guthrie (captain) - WD, C; Scarlett Williams - WD, C; Stacey Francis (vice-captain) - GK, GD, WD; Ursula Bowers - GK, GD; Jenna Murie - GD, WD, GK; Sophie Masterson - GK, GD; Summer Artman - GK, GD *
* GS - goal shooter, GA = goal attack, WA = wing attack, C = centre, WD = wing defence, GD = goal defence, GK = goalkeeper