Netball Superleague: Hertfordshire Mavericks coach on new season
Last updated on .From the section Netball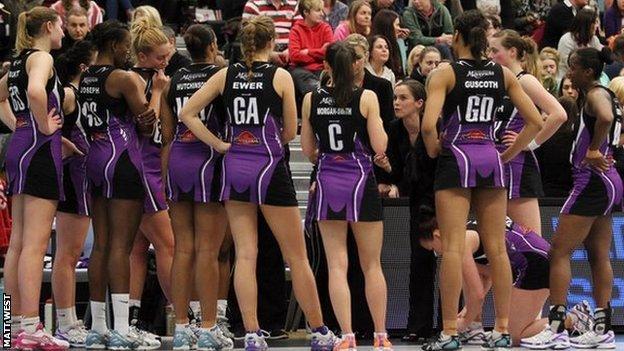 Hertfordshire Mavericks assistant coach Kat Ratnapala has said there will be an unknown element to the Superleague in Commonwealth Games year.
The Mavericks have recruited two Australians this season and have three England internationals.
"We've got Commonwealth Games this year so not only are the England players improving, but the imports are coming over as well," Ratnapala told BBC Three Counties Radio.
"There's a little bit of the unknown."
The new season starts on Thursday night when the Mavericks, two-time title winners, host the Celtic Dragons at Hertfordshire Sports Village in Hatfield.
And the 2014 campaign will be an opportunity for players to force their way into the England squad for the Games in Glasgow this summer.
Goalkeeper Lindsay Keable and sister pairing Sasha and Kadeen Corbin - the latter arriving from current champions Team Bath - are in the international frame.
Australian duo Sarah East and Samantha May have been brought in to strengthen the franchise, in a bid to improve on last season's fourth-place finish.
"Kadeen Corbin joins us this season. She's been over at Team Bath and come back home," said Ratnapala.
"We're really excited to have her in the squad and excited to have two sisters working together.
"We've got a new look this season, aong with some experienced players coming back.
"It's a really solid team. We were champions in 2008 and 2011 - who knows what this year will bring."
Hertfordshire Mavericks squad 2014
Sasha Corbin (captain) - WA/C; Camilla Buchanan (vice captain) - WD/C; Kadeen Corbin - GA/GS; Lindsay Keable - GK/GD; Layla Guscouth - GD/GK; Sophie Hankin - GA/GS; Rose Morgan-Smith - C/WD; Clare Drakeford - WA/C; Michaela McFarlane - WA/GA; Vicklyn Joseph - GS; Mikki Austin - mid-courter; Josie Huckle - GK/GD; Sarah East - GS; Samantha May - GD/WD/GK; Sophie Carter - WD/C *
* GA = goal attack, GS - goal shooter, WA = wing attack, C = centre, WD = wing defence, GK = goalkeeper