Netball Superleague: New recruits out to impress for Loughborough
Last updated on .From the section Netball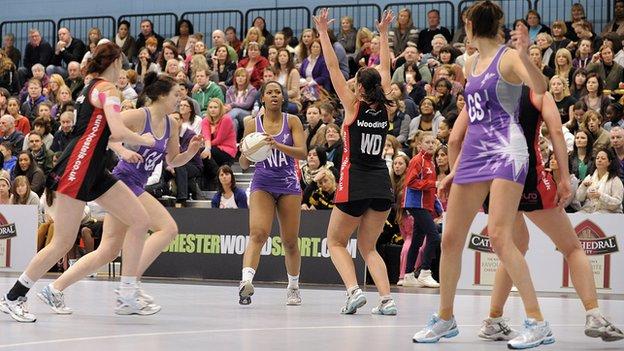 Loughborough Lightning's new signings have said they are ready to impress in their first Superleague campaign.
New Zealanders Elizabeth Hayman, Moniek van Rossum and Jessie Waitapu are set to make their competitive debuts for the club on Saturday, in the season opener against Yorkshire Jets.
"We can't wait for Saturday's game," 21-year-old shooter Hayman told BBC Radio Leicester.
"We just want to show the English people what we've got."
Hayman, defender Van Rossum and goal attack Waitapu have been brought in by compatriot Marg Foster, who was appointed as the Lightning's new coach during the close season.
And the arrival of former Canterbury boss, along with assistant Shelley Norris, prompted the players to follow to the English game.
"I heard Marg was coaching and I hadn't been given a contract back in New Zealand so I decided to see what it was all about over here," said Waitapu.
"It will be great to learn a different style of netball and some leadership skills."
Van Rossum added: "When the opportunity arose, I just ran with it.
"They're just great coaches. They get straight to the point, both on and off court, they will tell you exactly what they're thinking."
As well as filling their international quota, Foster has recruited England U19 mid-courter Holly Sims and former Yorkshire Jets shooter Rochelle Powell for the forthcoming campaign.
Welsh international Becky James has also returned to the club, with a view to selection for the Glasgow 2014 Commonwealth Games.
Loughborough Lightning squad 2014
Defenders: Nicola Caunt, Fran Desmond, Lauren Steadman, Moniek Van Rossum
Midcourt: Neala Brennan, Eleanor Durcan, Florence Edwards, Hannah Joseph, Holly Sims, Emily Watson
Shooters: Elizabeth Hayman, Rebecca James, Olivia Mason, Rochelle Powell, Jess Waitapu