Netball Superleague: Team Bath snatch late Surrey Storm draw
Last updated on .From the section Netball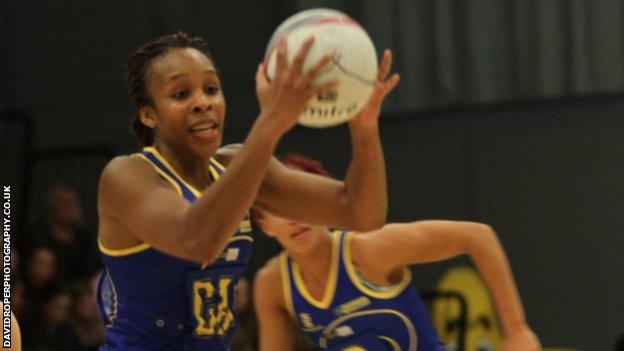 Pamela Cookey's last-gasp goal saw Team Bath draw 48-48 at leaders Surrey Storm in the third round of the Superleague.
The England captain converted on the final whistle following a turnover by club skipper Serena Guthrie.
It was an impressive comeback from the visitors after Surrey had gone into the final quarter with a seven-goal advantage at 41-34.
There were also wins for Manchester Thunder, Celtic Dragons and Team Northumbria on Monday night.
Tracey Neville's Thunder inflicted a first defeat of the season on Hertfordshire Mavericks, winning 48-38, while Loughborough Lightning are still looking for their first points of the season, after losing 61-41 at Celtic Dragons.
Team Northumbria held off a fight back from Yorkshire Jets to edge to a thrilling 52-50 victory in Hull.
The visitors, buoyed by their partnership with Northern Ireland netball, have now secured back-to-back wins - a feat they failed to achieve last season.
"It was a very physical contest," said Northern Ireland international Oonagh McCullough, who was awarded player of the match.
"However, across the court we battled hard and made our presence felt. We were very slow to start but in the second quarter we really made our mark and gained the momentum.
"I'm just delighted we got the win in the dying minutes. It was pretty tense but it's been a great weekend for everyone involved."
RESULTS
Round One - 30 Jan-3 Feb
Hertfordshire Mavericks 49-45 Celtic Dragons; Team Bath 59-45 Team Northumbria; Loughborough 34-53 Yorkshire Jets; Manchester Thunder 48-55 Surrey Storm
Round Two - 7-8 Feb
Team Bath 41-54 Manchester Thunders; Yorkshire Jets 44-66 Surrey Storm; Team Northumbria 62-52 Celtic Dragons; Loughborough Lightning 28-42 Hertfordshire Mavericks
Round Three - 10 Feb
Hertfordshire Mavericks 38-48 Manchester Thunder; Surrey Storm 48-48 Team Bath; Celtic Dragons 61-41 Loughborough Lightning; Yorkshire Jets 50-52 Team Northumbria