Netball Superleague: Manchester Thunder replaced by Surrey at top
Last updated on .From the section Netball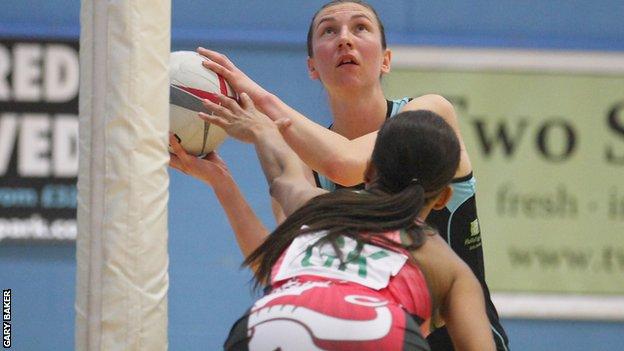 Surrey Storm regained their spot at the top of the Superleague with victory over Celtic Dragons.
Manchester Thunder and Team Northumbria leapfrogged the Storm at the weekend after beating Yorkshire Jets and Loughborough Lightning respectively.
But Tamsin Greenway's side moved back into first place following Monday's 69-48 victory in Wales.
In Saturday's other fourth-round result, Team Bath edged to a narrow 48-47 win over Hertfordshire Mavericks.
Speaking after the game to Sky Sports, player-coach Greenway praised team-mate and goal-shooter Rachel Dunn, who won player of the match.
"I've known Rach since I was 15, we came through England age groups together and we were at Team Bath for such a long time," said Greenway.
"I pretty much stole her when I came to Surrey Storm. I said if I was going to move I wanted her as well.
"Rach, for me, is probably the easiest feeder in the country, or the world, that I've ever played with."
Surrey's score was the highest of the Superleague this season, while last year's runners-up have now lost three of their four games.
RESULTS
Round One - 30 Jan-3 Feb
Hertfordshire Mavericks 49-45 Celtic Dragons; Team Bath 59-45 Team Northumbria; Loughborough 34-53 Yorkshire Jets; Manchester Thunder 48-55 Surrey Storm
Round Two - 7-8 Feb
Team Bath 41-54 Manchester Thunders; Yorkshire Jets 44-66 Surrey Storm; Team Northumbria 62-52 Celtic Dragons; Loughborough Lightning 28-42 Hertfordshire Mavericks
Round Three - 10 Feb
Hertfordshire Mavericks 38-48 Manchester Thunder; Surrey Storm 48-48 Team Bath; Celtic Dragons 61-41 Loughborough Lightning; Yorkshire Jets 50-52 Team Northumbria
Round Four - 15-17 Feb
Hertfordshire Mavericks 47-48 Team Bath; Loughborough Lightning 41-52 Team Northumbria; Manchester Thunder 60-40 Yorkshire Jets; Celtic Dragons 48-69 Surrey Storm.