Netball Superleague: Manchester Thunder snatch Surrey Storm draw
Last updated on .From the section Netball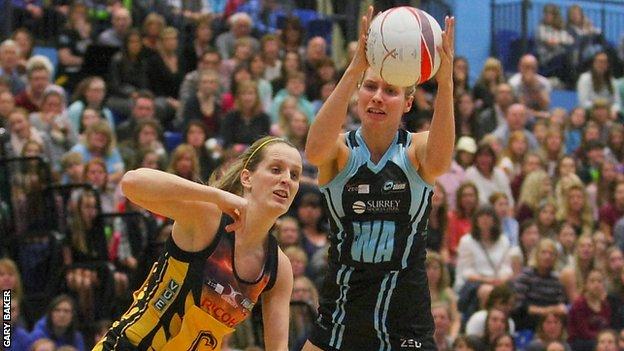 Manchester Thunder earned a dramatic late 46-46 draw with unbeaten Surrey Storm to keep up the chase at the top of the Superleague standings.
Storm led 23-17 at half-time but Manchester reduced the deficit to two points going into the fourth quarter.
And the visitors snatched a point when Helen Housby netted an equaliser with two seconds left on the clock.
Meanwhile, Yorkshire Jets, Hertfordshire Mavericks and Team Bath all claimed round-eight wins.
The Jets eased to a 68-50 win over Loughborough Lightning, who have lost all eight of their games this season, while reigning champions Team Bath beat Team Northumbria 66-50.
Hertfordshire recovered from their loss against Surrey at the Copper Box to battle to a 51-44 victory over Celtic Dragons.
The weekend's results mean Storm remain top of the table by one point, ahead of Thunder in second.
Round nine starts on Monday, as Team Bath host Surrey, Mavericks travel to Manchester and Team Northumbria face Yorkshire Jets.
Loughborough welcome Celtic Dragons on Thursday, in the final game of the round.
RESULTS
Round One - 30 Jan-03 Feb
Hertfordshire Mavericks 49-45 Celtic Dragons; Team Bath 59-45 Team Northumbria; Loughborough 34-53 Yorkshire Jets; Manchester Thunder 48-55 Surrey Storm
Round Two - 07-08 Feb
Team Bath 41-54 Manchester Thunders; Yorkshire Jets 44-66 Surrey Storm; Team Northumbria 62-52 Celtic Dragons; Loughborough Lightning 28-42 Hertfordshire Mavericks
Round Three - 10 Feb
Hertfordshire Mavericks 38-48 Manchester Thunder; Surrey Storm 48-48 Team Bath; Celtic Dragons 61-41 Loughborough Lightning; Yorkshire Jets 50-52 Team Northumbria
Round Four - 15-17 Feb
Hertfordshire Mavericks 47-48 Team Bath; Loughborough Lightning 41-52 Team Northumbria; Manchester Thunder 60-40 Yorkshire Jets; Celtic Dragons 48-69 Surrey Storm.
Round Five - 21-24 Feb
Yorkshire Jets 40-57 Team Bath; Celtic Dragons 51-54 Manchester Thunders; Surrey Storm 60-40 Loughborough Lightning; Team Northumbria 41-51 Hertfordshire Mavericks
Round Six - 28 Feb-01 March
Team Bath 62-62 Celtic Dragons; Hertfordshire Mavericks 39-50 Yorkshire Jets; Loughborough Lightning 31-61 Manchester Thunder; Team Northumbria 42-62 Surrey Storm
Round Seven - 07-08 March
Yorkshire Jets 67-70 Celtic Dragons; Manchester Thunder 65-35 Team Northumbria; Loughborough Lightning 47-58 Team Bath; Surrey Storm 52-50 Hertfordshire Mavericks
Round Eight - 14-15 March
Yorkshire Jets 68-50 Loughborough Lightning; Celtic Dragons 44-51 Hertfordshire Mavericks; Team Northumbria 50-66 Team Bath; Surrey Storm 46-46 Manchester Thunder