Netball Superleague: Surrey Storm overcome Team Bath
Last updated on .From the section Netball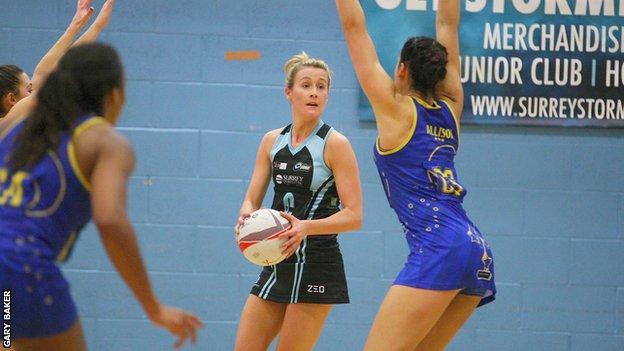 Reigning champions Team Bath fell to a 61-51 defeat against unbeaten Surrey Storm in round nine of Superleague.
The league leaders held a 29-25 lead at half-time but produced an impressive defensive display to keep the hosts at bay, while England shooter Rachel Dunn continued to dominate in attack.
But second-place Manchester Thunder kept up the pressure, winning 53-46 against Hertfordshire Mavericks.
Meanwhile, Team Northumbria and Yorkshire Jets battled to a 46-46 draw.
Round nine's final game will be played on Thursday between bottom club Loughborough Lightning and Celtic Dragons.
Surrey remain top of the standings with seven wins and two draw, and Thunder remain one point behind.
Team Bath, who earned a draw against Storm in round three, sit third on 17 points.
Bath captain and England mid-courter Serena Guthrie said after Monday's defeat: "Obviously we are disappointed to go down by 10 goals but Surrey are a good team and were never going to give many balls away.
"I feel we made a step up from where we have been playing recently and now we need to make a step up again in consistency. We need to be even more clinical."
RESULTS
Round One - 30 Jan-03 Feb
Hertfordshire Mavericks 49-45 Celtic Dragons; Team Bath 59-45 Team Northumbria; Loughborough 34-53 Yorkshire Jets; Manchester Thunder 48-55 Surrey Storm
Round Two - 07-08 Feb
Team Bath 41-54 Manchester Thunders; Yorkshire Jets 44-66 Surrey Storm; Team Northumbria 62-52 Celtic Dragons; Loughborough Lightning 28-42 Hertfordshire Mavericks
Round Three - 10 Feb
Hertfordshire Mavericks 38-48 Manchester Thunder; Surrey Storm 48-48 Team Bath; Celtic Dragons 61-41 Loughborough Lightning; Yorkshire Jets 50-52 Team Northumbria
Round Four - 15-17 Feb
Hertfordshire Mavericks 47-48 Team Bath; Loughborough Lightning 41-52 Team Northumbria; Manchester Thunder 60-40 Yorkshire Jets; Celtic Dragons 48-69 Surrey Storm.
Round Five - 21-24 Feb
Yorkshire Jets 40-57 Team Bath; Celtic Dragons 51-54 Manchester Thunders; Surrey Storm 60-40 Loughborough Lightning; Team Northumbria 41-51 Hertfordshire Mavericks
Round Six - 28 Feb-01 March
Team Bath 62-62 Celtic Dragons; Hertfordshire Mavericks 39-50 Yorkshire Jets; Loughborough Lightning 31-61 Manchester Thunder; Team Northumbria 42-62 Surrey Storm
Round Seven - 07-08 March
Yorkshire Jets 67-70 Celtic Dragons; Manchester Thunder 65-35 Team Northumbria; Loughborough Lightning 47-58 Team Bath; Surrey Storm 52-50 Hertfordshire Mavericks
Round Eight - 14-15 March
Yorkshire Jets 68-50 Loughborough Lightning; Celtic Dragons 44-51 Hertfordshire Mavericks; Team Northumbria 50-66 Team Bath; Surrey Storm 46-46 Manchester Thunder
Round Nine - 17-20 March
Manchester Thunder 53-46 Hertfordshire Mavericks; Team Northumbria 46-46 Yorkshire Jets; Team Bath 51-61 Surrey Storm