Netball Superleague: Team Bath close gap on Manchester Thunder
Last updated on .From the section Netball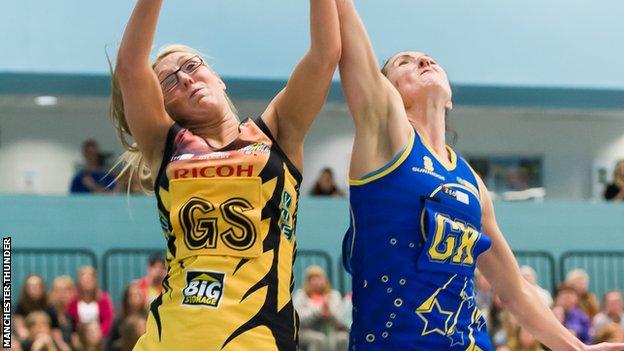 Third-place Team Bath beat Manchester Thunder 55-51 to move within two points of their Superleague rivals.
The hosts had only lost once prior to Monday's round 10 match, but were punished for their slow start against the title-holders.
Bath built a seven-point lead at the break, going in 33-26.
And although Manchester fought back to cut the deficit to two, England goal attack Pamela Cookey guided the visitors to victory.
Team Bath head coach Jess Thirlby said: "I'm really proud with our performance. We started much better and we led for the whole 60 minutes against a top team.
"Although they came back at us, we never quite let them come level with us. We played well as a team. We have to have a contribution from everybody out there and we did that."
Bath kick off round 11 on Friday night at home to fourth-place Hertfordshire Mavericks, while Team Northumbria face winless Loughborough Lightning.
League leaders Surrey, who have already qualified for the play-off semi-finals, welcome Celtic Dragons on Saturday and Thunder travel to Yorkshire Jets on Monday, 31 March.
RESULTS
Round One - 30 Jan-03 Feb
Hertfordshire Mavericks 49-45 Celtic Dragons; Team Bath 59-45 Team Northumbria; Loughborough 34-53 Yorkshire Jets; Manchester Thunder 48-55 Surrey Storm
Round Two - 07-08 Feb
Team Bath 41-54 Manchester Thunders; Yorkshire Jets 44-66 Surrey Storm; Team Northumbria 62-52 Celtic Dragons; Loughborough Lightning 28-42 Hertfordshire Mavericks
Round Three - 10 Feb
Hertfordshire Mavericks 38-48 Manchester Thunder; Surrey Storm 48-48 Team Bath; Celtic Dragons 61-41 Loughborough Lightning; Yorkshire Jets 50-52 Team Northumbria
Round Four - 15-17 Feb
Hertfordshire Mavericks 47-48 Team Bath; Loughborough Lightning 41-52 Team Northumbria; Manchester Thunder 60-40 Yorkshire Jets; Celtic Dragons 48-69 Surrey Storm.
Round Five - 21-24 Feb
Yorkshire Jets 40-57 Team Bath; Celtic Dragons 51-54 Manchester Thunders; Surrey Storm 60-40 Loughborough Lightning; Team Northumbria 41-51 Hertfordshire Mavericks
Round Six - 28 Feb-01 March
Team Bath 62-62 Celtic Dragons; Hertfordshire Mavericks 39-50 Yorkshire Jets; Loughborough Lightning 31-61 Manchester Thunder; Team Northumbria 42-62 Surrey Storm
Round Seven - 07-08 March
Yorkshire Jets 67-70 Celtic Dragons; Manchester Thunder 65-35 Team Northumbria; Loughborough Lightning 47-58 Team Bath; Surrey Storm 52-50 Hertfordshire Mavericks
Round Eight - 14-15 March
Yorkshire Jets 68-50 Loughborough Lightning; Celtic Dragons 44-51 Hertfordshire Mavericks; Team Northumbria 50-66 Team Bath; Surrey Storm 46-46 Manchester Thunder
Round Nine - 17-20 March
Manchester Thunder 53-46 Hertfordshire Mavericks; Team Northumbria 46-46 Yorkshire Jets; Team Bath 51-61 Surrey Storm; Loughborough Lightning 48-65 Celtic Dragons
Round Ten - 22-24 March
Hertfordshire Mavericks 71-35 Loughborough Lightning; Celtic Dragons 76-41 Hertfordshire Mavericks; Surrey Storm 63-42 Yorkshire Jets; Manchester Thunder 51-55 Team Bath