Netball Superleague: Team Bath held by Hertfordshire Mavericks
By Caroline Chapman
BBC Sport at the University of Bath Training Village
Last updated on .From the section Netball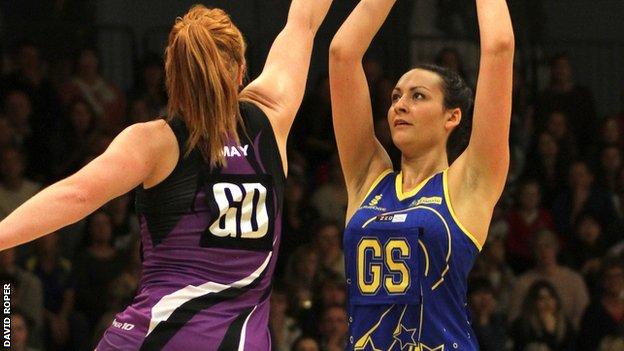 Hertfordshire Mavericks held Team Bath to a thrilling 49-49 draw in Superleague round 11.
In a battle between third and fourth place, the Mavericks went in 29-22 ahead at half-time.
The hosts snatched the lead and kept it until last final minutes of the game before Herts levelled, and Bath then missed a penalty in the dying seconds.
There were also wins for Manchester Thunder and Team Northumbria on Friday.
Northumbria eased to a 68-40 win over Loughborough, who have yet to win a game this season.
Thunder beat Yorkshire Jets 51-50 to stay second in the table, with Bath and the Mavericks occupying the final play-off places.
Herts are five points adrift of reigning champions Bath but stunned the hosts in the early stages of Friday's game by taking a four-goal lead.
Jess Thirlby's team levelled at 12-12, but as the Mavericks defence began to frustrate the opposition attack, Sophie Hakin and Kadeen Corbin performed well under the post at the other end to give the visitors a seven-goal cushion at the break.
Thirlby opted to make tactical changes - fit-again Stacey Francis was brought on as goalkeeper, while captain Serena Guthrie moved to wing defence from centre - and it made the difference.
Bath won five turnovers in the third quarter and pulled ahead, leading 40-37 with 15 minutes to go.
But Herts fought back yet again and drew level with only seconds remaining on the clock.
Late drama ensued when shooter Rosie Allison earned a penalty and unopposed shot, but the England international saw her attempt go amiss and her side had to settle for a point.
The remaining round 11 game take place on Saturday, as leaders Surrey host Celtic Dragons.
RESULTS
Round One - 30 Jan-03 Feb
Hertfordshire Mavericks 49-45 Celtic Dragons; Team Bath 59-45 Team Northumbria; Loughborough 34-53 Yorkshire Jets; Manchester Thunder 48-55 Surrey Storm
Round Two - 07-08 Feb
Team Bath 41-54 Manchester Thunders; Yorkshire Jets 44-66 Surrey Storm; Team Northumbria 62-52 Celtic Dragons; Loughborough Lightning 28-42 Hertfordshire Mavericks
Round Three - 10 Feb
Hertfordshire Mavericks 38-48 Manchester Thunder; Surrey Storm 48-48 Team Bath; Celtic Dragons 61-41 Loughborough Lightning; Yorkshire Jets 50-52 Team Northumbria
Round Four - 15-17 Feb
Hertfordshire Mavericks 47-48 Team Bath; Loughborough Lightning 41-52 Team Northumbria; Manchester Thunder 60-40 Yorkshire Jets; Celtic Dragons 48-69 Surrey Storm.
Round Five - 21-24 Feb
Yorkshire Jets 40-57 Team Bath; Celtic Dragons 51-54 Manchester Thunders; Surrey Storm 60-40 Loughborough Lightning; Team Northumbria 41-51 Hertfordshire Mavericks
Round Six - 28 Feb-01 March
Team Bath 62-62 Celtic Dragons; Hertfordshire Mavericks 39-50 Yorkshire Jets; Loughborough Lightning 31-61 Manchester Thunder; Team Northumbria 42-62 Surrey Storm
Round Seven - 07-08 March
Yorkshire Jets 67-70 Celtic Dragons; Manchester Thunder 65-35 Team Northumbria; Loughborough Lightning 47-58 Team Bath; Surrey Storm 52-50 Hertfordshire Mavericks
Round Eight - 14-15 March
Yorkshire Jets 68-50 Loughborough Lightning; Celtic Dragons 44-51 Hertfordshire Mavericks; Team Northumbria 50-66 Team Bath; Surrey Storm 46-46 Manchester Thunder
Round Nine - 17-20 March
Manchester Thunder 53-46 Hertfordshire Mavericks; Team Northumbria 46-46 Yorkshire Jets; Team Bath 51-61 Surrey Storm; Loughborough Lightning 48-65 Celtic Dragons
Round Ten - 22-24 March
Hertfordshire Mavericks 71-35 Loughborough Lightning; Celtic Dragons 76-41 Hertfordshire Mavericks; Surrey Storm 63-42 Yorkshire Jets; Manchester Thunder 51-55 Team Bath
Round Eleven - 28-29 March
Team Bath 49-49 Hertfordshire Mavericks; Yorkshire Jets 50-51 Manchester Thunder; Team Northumbria 68-40 Loughborough Lightning