Netball Superleague: Surrey Storm edge Celtic Dragons game
Last updated on .From the section Netball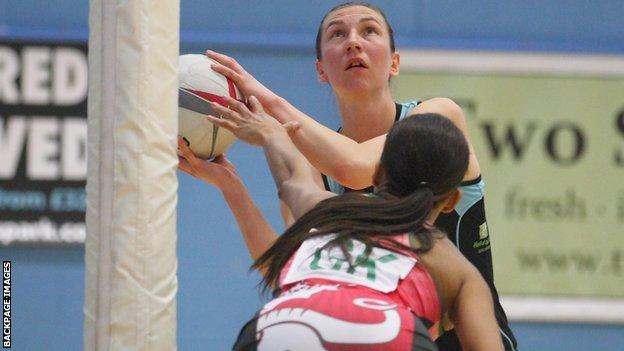 League leaders Surrey Storm recovered from going down to six players to score late and beat Celtic Dragons 63-62.
Storm led by two at the break but the Dragons turned it around to take the same advantage in the third quarter.
With a minute left on the clock, and the scores level, Storm goalkeeper Alex Sinclair was sin-binned for persistent defensive errors under the posts.
But a Surrey interception was fed to Rachel Dunn and the England shooter kept her cool to net the winner.
It means Storm keep their unbeaten record and lead the Superleague table by four points after round 11, having already done enough to reach the semi-finals.
The Dragons are fifth in the table, three points off Hertfordshire Mavericks, who occupy the final play-off place.
Round 12 games start on Thursday, with Team Bath hosting Yorkshire Jets.
On Saturday, Hertfordshire Mavericks welcome Team Northumbria, Celtic Dragons travel to Manchester Thunder while Loughborough welcome Surrey.
RESULTS
Round One - 30 Jan-03 Feb
Hertfordshire Mavericks 49-45 Celtic Dragons; Team Bath 59-45 Team Northumbria; Loughborough 34-53 Yorkshire Jets; Manchester Thunder 48-55 Surrey Storm
Round Two - 07-08 Feb
Team Bath 41-54 Manchester Thunders; Yorkshire Jets 44-66 Surrey Storm; Team Northumbria 62-52 Celtic Dragons; Loughborough Lightning 28-42 Hertfordshire Mavericks
Round Three - 10 Feb
Hertfordshire Mavericks 38-48 Manchester Thunder; Surrey Storm 48-48 Team Bath; Celtic Dragons 61-41 Loughborough Lightning; Yorkshire Jets 50-52 Team Northumbria
Round Four - 15-17 Feb
Hertfordshire Mavericks 47-48 Team Bath; Loughborough Lightning 41-52 Team Northumbria; Manchester Thunder 60-40 Yorkshire Jets; Celtic Dragons 48-69 Surrey Storm.
Round Five - 21-24 Feb
Yorkshire Jets 40-57 Team Bath; Celtic Dragons 51-54 Manchester Thunders; Surrey Storm 60-40 Loughborough Lightning; Team Northumbria 41-51 Hertfordshire Mavericks
Round Six - 28 Feb-01 March
Team Bath 62-62 Celtic Dragons; Hertfordshire Mavericks 39-50 Yorkshire Jets; Loughborough Lightning 31-61 Manchester Thunder; Team Northumbria 42-62 Surrey Storm
Round Seven - 07-08 March
Yorkshire Jets 67-70 Celtic Dragons; Manchester Thunder 65-35 Team Northumbria; Loughborough Lightning 47-58 Team Bath; Surrey Storm 52-50 Hertfordshire Mavericks
Round Eight - 14-15 March
Yorkshire Jets 68-50 Loughborough Lightning; Celtic Dragons 44-51 Hertfordshire Mavericks; Team Northumbria 50-66 Team Bath; Surrey Storm 46-46 Manchester Thunder
Round Nine - 17-20 March
Manchester Thunder 53-46 Hertfordshire Mavericks; Team Northumbria 46-46 Yorkshire Jets; Team Bath 51-61 Surrey Storm; Loughborough Lightning 48-65 Celtic Dragons
Round Ten - 22-24 March
Hertfordshire Mavericks 71-35 Loughborough Lightning; Celtic Dragons 76-41 Hertfordshire Mavericks; Surrey Storm 63-42 Yorkshire Jets; Manchester Thunder 51-55 Team Bath
Round Eleven - 28-29 March
Team Bath 49-49 Hertfordshire Mavericks; Yorkshire Jets 50-51 Manchester Thunder; Team Northumbria 68-40 Loughborough Lightning; Surrey Storm 63-62 Celtic Dragons