Netball Superleague: Surrey Storm secure home semi-final
Last updated on .From the section Netball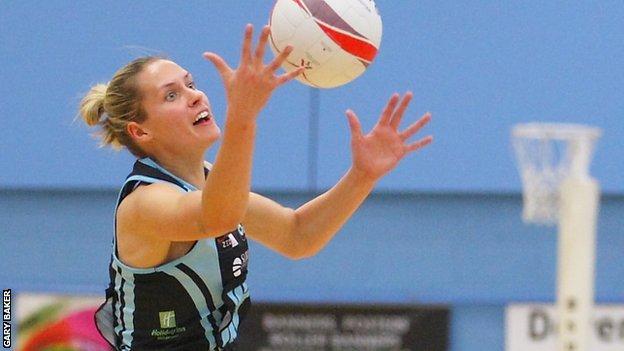 Surrey Storm beat Loughborough Lightning 62-40 to secure a home semi-final in the Superleague play-offs.
It was a 12th-straight defeat for bottom club Lightning, while Storm remain unbeaten this season and are guaranteed a top-two finish.
In Saturday's other matches, Manchester Thunder stayed in second place with a 63-52 win over Celtic Dragons.
Hertfordshire Mavericks, who occupy the final play-off spot, beat Team Northumbria 59-38.
Team Bath made sure of their semi-final place on Thursday evening following their 59-49 victory over Yorkshire Jets.
Round 13 of the competition takes place on Monday, as Team Northumbria host Thunder, Surrey travel to face Herts, Celtic Dragons welcome the Jets while Loughborough visit Bath.
RESULTS
Round One - 30 Jan-03 Feb
Hertfordshire Mavericks 49-45 Celtic Dragons; Team Bath 59-45 Team Northumbria; Loughborough 34-53 Yorkshire Jets; Manchester Thunder 48-55 Surrey Storm
Round Two - 07-08 Feb
Team Bath 41-54 Manchester Thunders; Yorkshire Jets 44-66 Surrey Storm; Team Northumbria 62-52 Celtic Dragons; Loughborough Lightning 28-42 Hertfordshire Mavericks
Round Three - 10 Feb
Hertfordshire Mavericks 38-48 Manchester Thunder; Surrey Storm 48-48 Team Bath; Celtic Dragons 61-41 Loughborough Lightning; Yorkshire Jets 50-52 Team Northumbria
Round Four - 15-17 Feb
Hertfordshire Mavericks 47-48 Team Bath; Loughborough Lightning 41-52 Team Northumbria; Manchester Thunder 60-40 Yorkshire Jets; Celtic Dragons 48-69 Surrey Storm.
Round Five - 21-24 Feb
Yorkshire Jets 40-57 Team Bath; Celtic Dragons 51-54 Manchester Thunders; Surrey Storm 60-40 Loughborough Lightning; Team Northumbria 41-51 Hertfordshire Mavericks
Round Six - 28 Feb-01 March
Team Bath 62-62 Celtic Dragons; Hertfordshire Mavericks 39-50 Yorkshire Jets; Loughborough Lightning 31-61 Manchester Thunder; Team Northumbria 42-62 Surrey Storm
Round Seven - 07-08 March
Yorkshire Jets 67-70 Celtic Dragons; Manchester Thunder 65-35 Team Northumbria; Loughborough Lightning 47-58 Team Bath; Surrey Storm 52-50 Hertfordshire Mavericks
Round Eight - 14-15 March
Yorkshire Jets 68-50 Loughborough Lightning; Celtic Dragons 44-51 Hertfordshire Mavericks; Team Northumbria 50-66 Team Bath; Surrey Storm 46-46 Manchester Thunder
Round Nine - 17-20 March
Manchester Thunder 53-46 Hertfordshire Mavericks; Team Northumbria 46-46 Yorkshire Jets; Team Bath 51-61 Surrey Storm; Loughborough Lightning 48-65 Celtic Dragons
Round Ten - 22-24 March
Hertfordshire Mavericks 71-35 Loughborough Lightning; Celtic Dragons 76-41 Hertfordshire Mavericks; Surrey Storm 63-42 Yorkshire Jets; Manchester Thunder 51-55 Team Bath
Round Eleven - 28-29 March
Team Bath 49-49 Hertfordshire Mavericks; Yorkshire Jets 50-51 Manchester Thunder; Team Northumbria 68-40 Loughborough Lightning; Surrey Storm 63-62 Celtic Dragons
Round Twelve - 03-05 April
Team Bath 59-49 Yorkshire Jets; Loughborough Lightning 40-62 Surrey Storm; Manchester Thunder 63-52 Celtic Dragons; Hertfordshire Mavericks 59-38 Team Northumbria