Netball Superleague: Dragons and Mavericks battle for play-offs
Last updated on .From the section Netball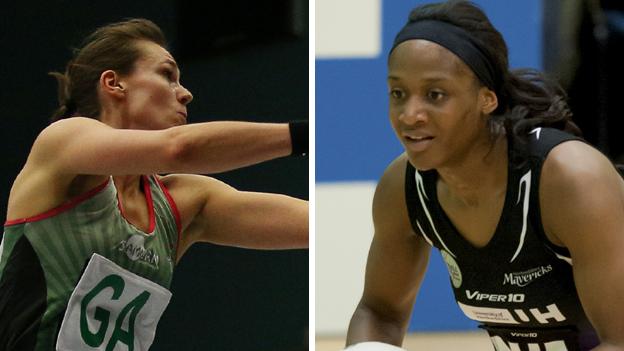 Celtic Dragons kept up the chase for the play-offs after they beat Yorkshire Jets 70-52 in round 13 of Superleague.
The Welsh side moved to within three points of fourth-placed Hertfordshire Mavericks, who fell to a narrow 53-51 defeat by Surrey Storm on Monday.
The Dragons will now have to beat Team Bath in Saturday's final round and hope the Mavericks lose heavily to the Jets if they are to claim fourth spot.
Surrey, Manchester Thunder and Bath have already secured play-off places.
Thunder's 66-55 win over Team Northumbria on Monday night means they have claimed a home semi-final.
Tracey Neville's side will face reigning champions Bath, who made sure of third place with their 63-41 victory over Loughborough Lighting.
Surrey, who are unbeaten going into the last game of the season, have also secured a home tie in the semi-finals, and will play whoever finishes fourth in the table.
Speaking after their win over the Jets, Dragons player of the match Nic James told BBC Radio Wales: "We lost on Saturday [at Manchester] and a few of us were quite disappointed with the performance, but tonight we really gelled together.
"It's all about performance and Commonwealth Games preparation for us this season but if we could get to get fourth position it would be absolutely fantastic."
The Dragons made the final of Superleague 2013 but lost 62-56 to Team Bath in Worcester.
RESULTS
Round One - 30 Jan-03 Feb
Hertfordshire Mavericks 49-45 Celtic Dragons; Team Bath 59-45 Team Northumbria; Loughborough 34-53 Yorkshire Jets; Manchester Thunder 48-55 Surrey Storm
Round Two - 07-08 Feb
Team Bath 41-54 Manchester Thunders; Yorkshire Jets 44-66 Surrey Storm; Team Northumbria 62-52 Celtic Dragons; Loughborough Lightning 28-42 Hertfordshire Mavericks
Round Three - 10 Feb
Hertfordshire Mavericks 38-48 Manchester Thunder; Surrey Storm 48-48 Team Bath; Celtic Dragons 61-41 Loughborough Lightning; Yorkshire Jets 50-52 Team Northumbria
Round Four - 15-17 Feb
Hertfordshire Mavericks 47-48 Team Bath; Loughborough Lightning 41-52 Team Northumbria; Manchester Thunder 60-40 Yorkshire Jets; Celtic Dragons 48-69 Surrey Storm.
Round Five - 21-24 Feb
Yorkshire Jets 40-57 Team Bath; Celtic Dragons 51-54 Manchester Thunders; Surrey Storm 60-40 Loughborough Lightning; Team Northumbria 41-51 Hertfordshire Mavericks
Round Six - 28 Feb-01 March
Team Bath 62-62 Celtic Dragons; Hertfordshire Mavericks 39-50 Yorkshire Jets; Loughborough Lightning 31-61 Manchester Thunder; Team Northumbria 42-62 Surrey Storm
Round Seven - 07-08 March
Yorkshire Jets 67-70 Celtic Dragons; Manchester Thunder 65-35 Team Northumbria; Loughborough Lightning 47-58 Team Bath; Surrey Storm 52-50 Hertfordshire Mavericks
Round Eight - 14-15 March
Yorkshire Jets 68-50 Loughborough Lightning; Celtic Dragons 44-51 Hertfordshire Mavericks; Team Northumbria 50-66 Team Bath; Surrey Storm 46-46 Manchester Thunder
Round Nine - 17-20 March
Manchester Thunder 53-46 Hertfordshire Mavericks; Team Northumbria 46-46 Yorkshire Jets; Team Bath 51-61 Surrey Storm; Loughborough Lightning 48-65 Celtic Dragons
Round Ten - 22-24 March
Hertfordshire Mavericks 71-35 Loughborough Lightning; Celtic Dragons 76-41 Hertfordshire Mavericks; Surrey Storm 63-42 Yorkshire Jets; Manchester Thunder 51-55 Team Bath
Round Eleven - 28-29 March
Team Bath 49-49 Hertfordshire Mavericks; Yorkshire Jets 50-51 Manchester Thunder; Team Northumbria 68-40 Loughborough Lightning; Surrey Storm 63-62 Celtic Dragons
Round Twelve - 03-05 April
Team Bath 59-49 Yorkshire Jets; Loughborough Lightning 40-62 Surrey Storm; Manchester Thunder 63-52 Celtic Dragons; Hertfordshire Mavericks 59-38 Team Northumbria
Round Thirteen - 07 April
Hertfordshire Mavericks 51-53 Surrey Storm; Celtic Dragons 70-52 Yorkshire Jets; Team Northumbria 53-66 Manchester Thunder; Team Bath 63-41 Loughborough Lightning