Netball Superleague: Surrey Storm end season unbeaten
Last updated on .From the section Netball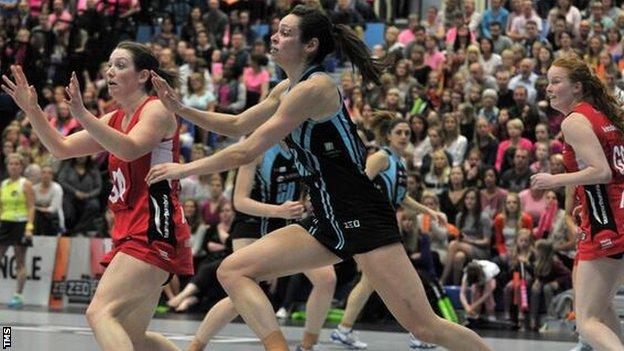 Surrey Storm beat Team Northumbria 69-43 in the last round of Superleague to end the regular season unbeaten.
Storm had already booked a home semi-final play-off against Hertfordshire Mavericks but continued their fine form in the final game of the campaign.
Tamsin Greenway's side had a 14-point lead at half-time on Monday and the visitors were unable to recover.
It means Surrey finish the season top of the table by four points, while Northumbria finish sixth.
Greenway told Sky Sports after the game: "Unbeaten means nothing if we lose next week but the achievement the team has made this season has been fantastic, to be unbeaten all season is amazing."
The semi-finals take place on Monday, 21 April with the Mavericks making the short journey to Surrey, while reigning champions Team Bath are away at Manchester Thunder, who finished second in the table.
The winners will progress to the grand final, held in Worcester on Saturday, 26 April.
RESULTS
Round One - 30 Jan-03 Feb
Hertfordshire Mavericks 49-45 Celtic Dragons; Team Bath 59-45 Team Northumbria; Loughborough 34-53 Yorkshire Jets; Manchester Thunder 48-55 Surrey Storm
Round Two - 07-08 Feb
Team Bath 41-54 Manchester Thunders; Yorkshire Jets 44-66 Surrey Storm; Team Northumbria 62-52 Celtic Dragons; Loughborough Lightning 28-42 Hertfordshire Mavericks
Round Three - 10 Feb
Hertfordshire Mavericks 38-48 Manchester Thunder; Surrey Storm 48-48 Team Bath; Celtic Dragons 61-41 Loughborough Lightning; Yorkshire Jets 50-52 Team Northumbria
Round Four - 15-17 Feb
Hertfordshire Mavericks 47-48 Team Bath; Loughborough Lightning 41-52 Team Northumbria; Manchester Thunder 60-40 Yorkshire Jets; Celtic Dragons 48-69 Surrey Storm.
Round Five - 21-24 Feb
Yorkshire Jets 40-57 Team Bath; Celtic Dragons 51-54 Manchester Thunders; Surrey Storm 60-40 Loughborough Lightning; Team Northumbria 41-51 Hertfordshire Mavericks
Round Six - 28 Feb-01 March
Team Bath 62-62 Celtic Dragons; Hertfordshire Mavericks 39-50 Yorkshire Jets; Loughborough Lightning 31-61 Manchester Thunder; Team Northumbria 42-62 Surrey Storm
Round Seven - 07-08 March
Yorkshire Jets 67-70 Celtic Dragons; Manchester Thunder 65-35 Team Northumbria; Loughborough Lightning 47-58 Team Bath; Surrey Storm 52-50 Hertfordshire Mavericks
Round Eight - 14-15 March
Yorkshire Jets 68-50 Loughborough Lightning; Celtic Dragons 44-51 Hertfordshire Mavericks; Team Northumbria 50-66 Team Bath; Surrey Storm 46-46 Manchester Thunder
Round Nine - 17-20 March
Manchester Thunder 53-46 Hertfordshire Mavericks; Team Northumbria 46-46 Yorkshire Jets; Team Bath 51-61 Surrey Storm; Loughborough Lightning 48-65 Celtic Dragons
Round Ten - 22-24 March
Hertfordshire Mavericks 71-35 Loughborough Lightning; Celtic Dragons 76-41 Hertfordshire Mavericks; Surrey Storm 63-42 Yorkshire Jets; Manchester Thunder 51-55 Team Bath
Round Eleven - 28-29 March
Team Bath 49-49 Hertfordshire Mavericks; Yorkshire Jets 50-51 Manchester Thunder; Team Northumbria 68-40 Loughborough Lightning; Surrey Storm 63-62 Celtic Dragons
Round Twelve - 03-05 April
Team Bath 59-49 Yorkshire Jets; Loughborough Lightning 40-62 Surrey Storm; Manchester Thunder 63-52 Celtic Dragons; Hertfordshire Mavericks 59-38 Team Northumbria
Round Thirteen - 07 April
Hertfordshire Mavericks 51-53 Surrey Storm; Celtic Dragons 70-52 Yorkshire Jets; Team Northumbria 53-66 Manchester Thunder; Team Bath 63-41 Loughborough Lightning
Round Fourteen - 11-14 April
Yorkshire Jets 56-45 Hertfordshire Mavericks; Celtic Dragons 56-55 Team Bath; Manchester Thunder 62-40 Loughborough Lightning; Surrey Storm 69-43 Team Northumbria