Netball: Jersey's Team Jets promoted to Premier League Three
By Tim Pryor
BBC Radio Jersey at Loughborough University
Last updated on .From the section Netball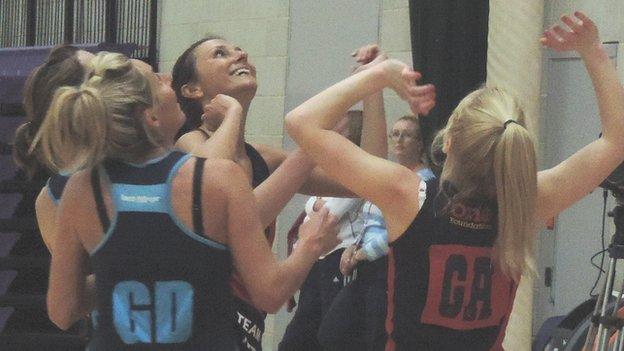 Jersey's Team Jets celebrated promotion to netball's Premier League Three thanks to a 54-43 win over the southern champions Just Ahead.
Jets were quickly 4-0 in front in the play-off final in Loughborough and held a 14-7 advantage after the first quarter.
In a game where they were never behind, they led by 11 at half-time and never looked likely to let the win slip away.
"I'm just so proud of them," said coach Linda Andrews.
"I was confident but then the opposition is unknown so you just don't know what they're going to do to you.
"The hard work starts now. I think we're going to get nine home games which will just be amazing for the fans."
The Jersey side went into the play-off weekend as and hoping to play national division netball for the first time in their short history.
After a 65-34 thumping of Sheffield Stormers and a 56-42 victory over Chester in Saturday's group games, they went into Sunday's final with Hampshire-based Just Ahead on a high.
Jets' blistering start to both halves set the tone for the win and although Just Ahead fought back in the final quarter to narrow the gap, by then the damage was already done.
"We've done it and I can't quite believe it," skipper Lauren Devine told BBC Radio Jersey.
"It makes training three times a week, the money we spend and the time we have to take off work sometimes all worth it.
"The nerves have been pretty big all day because it all comes down to this and to think it could all be over in 15 minutes was quite a devastating thought."
During their regional campaign, opponents had not always been willing to travel to the island for matches because of the cost.
Instead, the Jets have had to play many of their home fixtures away from Les Ormes in England instead.
Now though, at the higher level, they understand they will be able to host all nine of their home games.
In the other play-off finals, Norfolk United and Sussex Thunder both narrowly won their matches against Chester and Seatonians respectively to retain their places in Premier Three.