Scottish Thistles face South Africa as Glasgow 2014 netball looms

By Keir Murray
BBC Sport Scotland
Last updated on .From the section Netball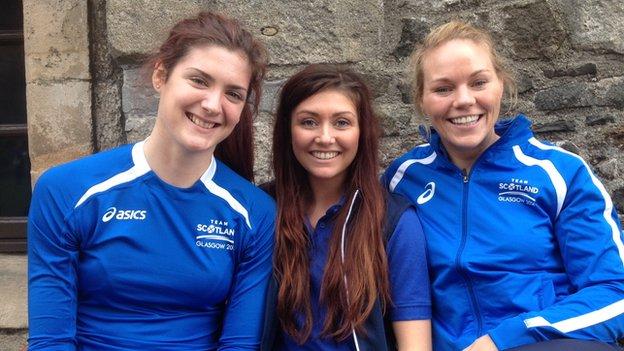 The aim, according to Scottish Thistles coach Gail Parata, is to finish in the top eight at the Commonwealth Games.
That may seem like a modest ambition, but for the Scots, ranked 12th in the netball world rankings, it would represent success.
It will, after all, be the team's first Commonwealth appearance.
And it's worth noting that every nation above Scotland in the rankings is a Commonwealth member and that all except Fiji, ranked seventh, will be competing on the court at Glasgow's SECC.
The Thistles begin Glasgow 2014 against the only team at the competition below them in the world list, Saint Lucia (ranked 15th), on 25 July.
In the two days that follow there are matches against the word's top team and reigning Commonwealth champions New Zealand and Jamaica, who are ranked fourth.
The squad will no doubt be thankful of a day's rest before they take on fifth-ranked Malawi and Northern Ireland, one place above them, on consecutive days.
The final Games squad of 12 was named at Stirling Castle last week. The players are now in South Africa for three Tests against the host nation, whose team are known as the Spar Proteas.
Scotland centre Samantha Murphy, 22, told BBC Scotland: "We'll play three games back-to-back, which will mirror what we'll have to do at the Commonwealth Games, so it will be good preparation."
Murphy, from East Kilbride, is getting used to facing higher-ranked opposition, having played against the Silver Ferns (New Zealand), Trinidad and Tobago and Wales in recent months.
Scotland have never beaten South Africa in a Test series but the sixth-best team in the world can expect a trio of challenging games.
The Scots are fitter and more aggressive than in previous years and, of course, they have much to play for.
The Commonwealth Games is not the only event serving to raise the Thistles' standard - the players know there are places up for grabs for next year's Netball World Cup in Sydney.
Scotland beat the Republic of Ireland 79-19 to qualify from the European section along with Wales. England enjoyed automatic qualification by dint of their top-six ranking.
Parata admitted to finding it hard to cut the squad of 20 to a dozen for Glasgow 2014, but her eventual choice is designed to cover a number of on-court scenarios. She believes she has "solid back-up in each position".
"It's important to have depth and different combinations throughout the team but it will also be important to have different combinations which will be suitable for different opposition," explained Edinburgh's Gemma Sole, Thistles' goal shooter and goal keeper.
"We come up against a lot of different styles. Trinidad and Tobago are one style of netball, South Africa will be a completely different style.
"We could have two equally strong centres but one might be better adapted for certain opposition."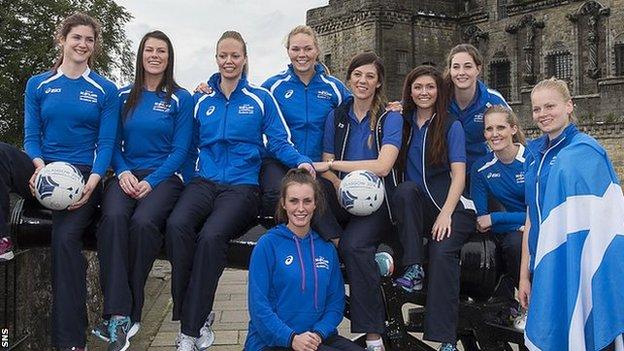 Murphy, who can also play wing attack and wing defence, added: "Most players are able to cover more than one position, which is great because it gives us more versatility to change our options.
"We go through lines of people playing different positions in training so we know we can put on any player in any position."
Paisley's Fiona Moore-McGrath is looking forward to the team testing themselves against South Africa, who invited the Scots to Bellville, near Cape Town.
"I don't think our ranking of 12th reflects where we are at the moment so it will be a great chance for us to gauge where we're at prior to going into the Games," said the wing defence and centre.
To win a Commonwealth medal, Scotland would most likely need to displace Jamaica from their expected runners-up spot in Pool A, assuming New Zealand top the round-robin stage.
That would pitch them against the winner of Pool B, predicted to be Australia or England.
That may seem too big a step, but if they can finish no lower than fourth in Pool A then they will achieve Parata's stated aim of a top-eight finish.
Sole praised the efforts of the Scottish Institute of Sport in improving their fitness.
"They have done a great job in preparing our bodies," said the 23-year-old.
"Perhaps before we might have flaked off if someone had pushed us, and got a bit upset, but now we are ready to give it back just as much."
Moore-McGrath, 28, added: "Bruises are just a part of your daily business now, you don't even notice them."
The Thistles will have capacity crowds roaring them on in Glasgow, something Moore-McGrath hopes will inspire thousands of girls to take up netball.
"It will be a great spectacle for our sport, for kids to see, in terms of legacy," she said.