Netball: Scottish Thistles narrow gap on South Africa but lose again
Last updated on .From the section Netball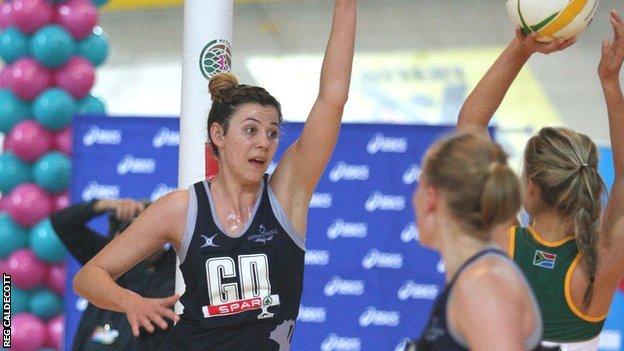 The Scottish Thistles lost for a third time to South Africa on Saturday in their three-Test series in Cape Town.
However, the Scots netballers improved on previous matches against the hosts, who are ranked sixth in the world, six places above the Thistles.
Saturday's 46-33 defeat followed earlier 56-29 and 41-25 losses.
The series was the final competition for Gail Parata's squad before the Commonwealth Games get under way in Glasgow this summer.
Maggie Murray, chief executive at Netball Scotland, said: "This Test series was about preparing for the Commonwealth Games.
"The steady improvement and significant gains over three Tests proves how quickly we learn and how hungry we are to improve.
"Playing against teams of this quality allow us to recognise what it takes to be competitive within the top six teams in the world.
"We have signalled our intention to compete with distinction and finish in the top eight at the Games."
Thistles captain Lesley MacDonald described Saturday's defeat by 13 points as "another solid step forward" in preparation for Glasgow 2014.