Helen Housby: England shooter embracing 'whirlwind year'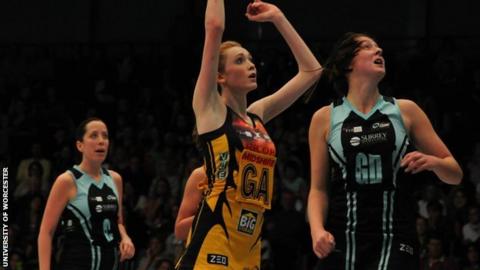 England shooter Helen Housby says she has been surprised by her own success this year.
The 19-year-old student from Cumbria became a regular for Manchester Thunder in the Superleague this season, and netted the winner to secure her side the title in the grand final.
She has now earned herself a place in England's 12-strong squad for the Commonwealth Games in Glasgow.
"I don't think anyone was expecting it, not even me," she told BBC Sport.
"It's been a whirlwind and I wasn't expecting this at the start of the year.
"The Superleague was even a surprise for me because I didn't think I'd even be starting, or getting many quarters.
"It all snowballed - in a good way. It's been a fast-track to this ending but I'm really pleased."
England's netball squad for Glasgow
Attackers
Kadeen Corbin, Rachel Dunn, Helen Housby, Joanne Harten
Mid-court
Jade Clarke, Sara Bayman, Sasha Corbin, Serena Guthrie
Defenders
Ama Agbeze, Eboni Beckford-Chambers, Stacey Francis, Geva Mentor
Housby, a Zoology student at Manchester University, has been playing in the Superleague since 2013 but it was her dramatic late goal for Thunder in the Grand Final against Surrey Storm in April that saw her profile rise.
And, with regular goal attack and captain Pamela Cookey sidelined through injury for the Games, Housby has been given the chance to fight for a place in England's attacking line-up alongside Kadeen Corbin, Rachel Dunn and Joanne Harten.
Although she is the youngest in the squad, and arguably the least experienced, Housby believes she can make an impact in Glasgow.
"I would like to think if I took to court then I could put in good performances - that's all I really want to do," she added.
"It's such an honour to represent England on such a big stage. If I get my opportunity I want to take it."