Premier League Three: Jersey's Team Jets go second
Last updated on .From the section Netball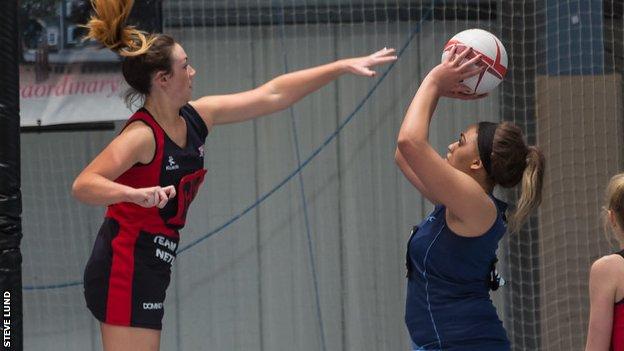 Jersey Team Jets moved up to second place in Premier League Three after beating Ryland 57-46 at Les Ormes.
Jets controlled the game from the outset and led 32-18 at half time as Ryland slip to third in the table.
Jersey are now four points adrift of league leaders Kent County, with the title winners earning automatic promoted to Premier League Two, while second and third go into a play-off.
"The girls were flying right form the start," Jets coach Linda Andrews said.
"When we played them the first time it was only our second game and we weren't quite used to what was needed of us and we have moved immensely over the season," added Andrews, whose side were beaten by 50-47 Ryland in September.
Ryland's Amy Blake praised a Team Jets side she expects to meet in the play-offs.
"Team Jets deserved to win, they were the better team," Blake told BBC Radio Jersey.
"It looks like it could be us and Team Jets going to the play-offs, so hopefully we'll be playing them again soon."