Team Jets netball: Jersey boss studies New Zealand defence
Last updated on .From the section Netball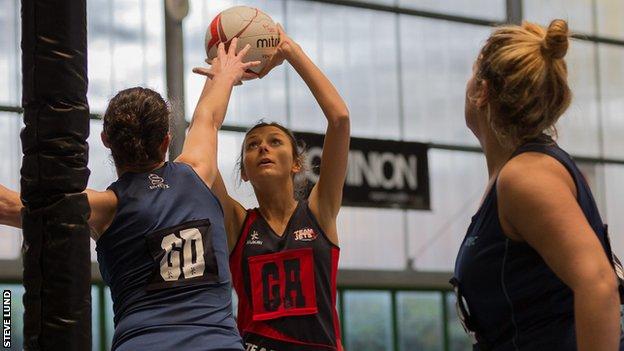 Team Jets coach Linda Andrews says she has been studying the defence of the New Zealand national team to help prepare for the match with Cumberland.
The London-based club a defeat Andrews says she has learned from.
"They've got defenders from New Zealand," Andrews told BBC Jersey.
"So I've looked at how New Zealand defend as a nation and they did exactly the same thing, so we know what they'll be doing to us so this time."
The match is the Jersey club's first away game since the end of November in Premier League Three, with the islanders second in the table and chasing at least a promotion play-off place.
"I can't see us falling by the wayside," Andrews said of her team's chances of making the play-offs.
"I think the only way it could happen that we don't make it would be if there's some more major injuries, but touch wood, we're not going to think about that and just be positive and this group of girls will go on and should make the play-offs."
Jersey have only lost three times since