England netball: Tracey Neville names first squad
Last updated on .From the section Netball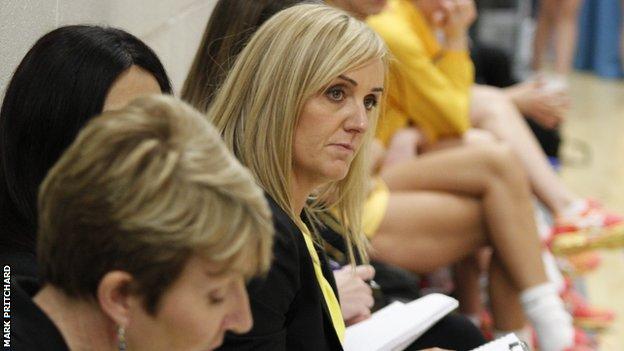 England's netball interim head coach Tracey Neville has named her first squad which includes Sonia Mkoloma.
Defender Mkoloma, 36, has not represented her country since 2011, but has been included to face Trinidad & Tobago in a three-match series in May.
Neville is without players from teams in the ANZ Championships in Australia and New Zealand - including defender Geva Mentor and shooter Jo Harten.
The squad for the Netball Europe Open in Belfast has also been named.
Neville, the sister of former England football internationals Gary and Phil, replaced Anna Mayes as head coach last month and will remain in charge at least until this summer's World Cup.
England squad to face Trinidad & Tobago on 6, 8 and 11 May
Sara Bayman, Sam Cook, Pamela Cookey, Kadeen Corbin, Sasha Corbin, Rachel Dunn, Stacey Francis, Layla Guscoth, Natalie Haythornthwaite, Helen Housby, Laura Malcolm, Sonia Mkoloma
Reserves: Sophia Candappa and Naida Hutchinson
England squad for Netball Europe Open between 14 and 17 May
Sara Bayman, Sally Butters, Sam Cook, Pamela Cookey, Kadeen Corbin, Rachel Dunn, Stacey Francis, Tamsin Greenway, Layla Guscoth, Helen Housby, Laura Malcolm, Sonia Mkoloma
Reserves: Sasha Corbin and Lindsay Keable