Superleague: Yorkshire Jets excited about Surrey Storm play-off
Last updated on .From the section Netball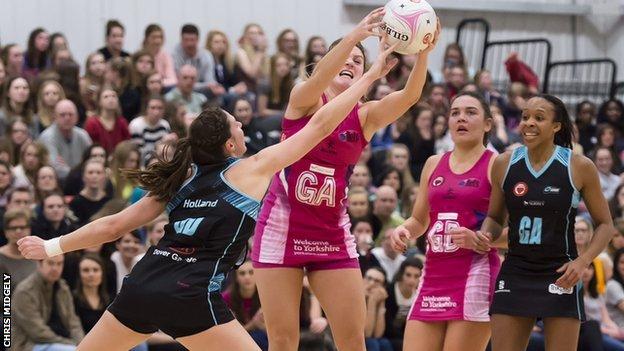 Yorkshire Jets vice-captain Natalie Haythornthwaite is looking forward to the club's first-ever Superleague play-off game.
"I'm very excited. It was our target from day one to finish in the top four," she told BBC Radio Leeds.
"We established in the first half of the season that we were a top-four team and then we had to continue improving."
Mid-court Sally Butters added: "We've all worked very, very hard and we all knew where we wanted to be at the end of the season. It's exciting to be there now."
The Jets finished seventh in Superleague last time out but lost just four of their 14 league games this season.
Haythornthwaite, who has been called up to Tracey Neville's first England squad, believes the Jets are in a good position to keep progressing.
"There's such a great community here and this has been a huge year," she said
"Our team is just getting stronger and stronger and we definitely want this to keep growing in the coming seasons."