Team Jets: Jersey side geared up for Premier Three play-off weekend
Last updated on .From the section Netball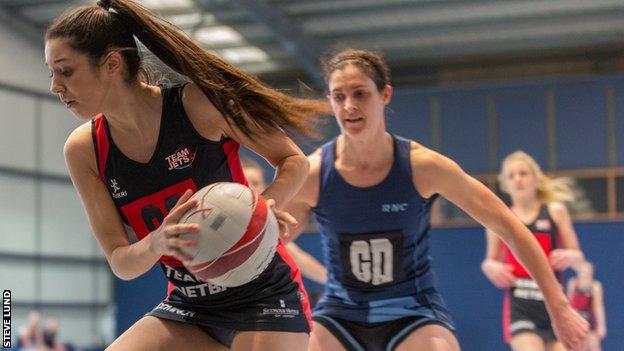 Team Jets head coach Linda Andrews is confident that her team will win the Premier Three play-offs this weekend.
The Jersey netball side will take on Kent, plus Premier Two sides Dominoes and Leyton, as they chase promotion to the third tier.
They ended their first season in the division in third place after a 45-41 victory over Linden back in March.
"I'm confident in the girls' ability and think it will be a successful weekend," Andrews told BBC Jersey.
"With my heart I just want to say 'yes yes yes' (about their promotion chances), and I'm sure we will, but we are going into the unknown."

The play-offs will take place in Loughborough, with two promotion places up for grabs after Ryland won the division and automatic promotion to Premier Two.
Jersey will play Kent and Manchester-based Dominoes on Saturday, before facing Leyton the following day.
"We're the only team in the league to have beaten Kent, and we've beaten them twice, so we need to make it a hat-trick but they'll be out there to get us," added Andrews.
"We've found out a little bit about Leyton - they've got a couple of pregnancies and a couple of injuries - but we're hoping to do the business on Saturday."
Andrews' team need to win two of the three games to go up, with all their matches being played in just over 24 hours.
They go into the play-offs on a run of five consecutive victories.
"We've bought a paddling pool and we've got ice on tap, so the girls will be having ice baths immediately after the first game," Andrews added.
"The girls are fit and we seem to get stronger in the second half of games - for a lot of the teams that's their downfall."