Scottish Thistles head for Netball Europe Championships
Last updated on .From the section Netball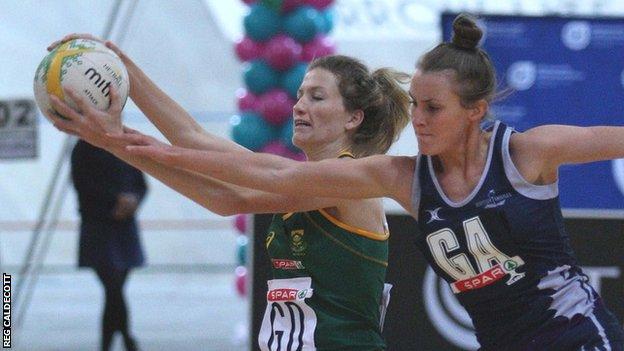 The Scottish Thistles are expecting a tough challenge at this week's Netball Europe Championships in Belfast.
The Scots, ranked 11th in the world, face Northern Ireland, eighth-ranked Wales and Trinidad & Tobago (ninth) at the Antrim Forum between 14 and 17 May.
World number six side South Africa also feature in the tournament.
"This is the first time the European countries have invited countries from other continents," said Maggie Murray, Netball Scotland's chief executive.
"The outcome is that the Thistles will be seriously challenged by four top-ten ranked countries, which is both a benefit and a threat.
Scottish Thistles' matches at Netball Europe Championships

Thursday 14 May

Scotland v South Africa (12:30 BST)

Friday 15 May

Northern Ireland v Scotland (10:30 BST)

Saturday 16 May

Scotland v Trinidad & Tobago (10:30 BST)

Sunday 17 May

Scotland v Wales (10:30 BST)
"It's a big chance to learn and improve but we risk moving down from 11th place if we lose to Northern Ireland, Wales or Trinidad & Tobago - all three are our main rivals.
"Over the last two years the Thistles have learned how to close out tight games so our mind-set is all about winning, giving nothing away.
"This year's Netball Europe will help us prepare for the netball World Cup in Sydney in August. The Thistles know that they must fight to hold or improve their ranking. We are confident we can do this."