Team Jets: Jersey side 'aim to stay up' next season, says Jacy Brown
Last updated on .From the section Netball
Team Jets centre Jacy Brown has said the Jersey side will "aim to stay up" in netball's third tier next season after gaining promotion.
"There was shock and a few tears from Linda [Andrews, Jets coach], our manager Debbie [Pitman] and a few of the girls - it was so emotional," Brown told BBC Jersey.
"I think our aim will be to stay up."
Jets lost to Kent but bounced back with wins over Dominoes and Leyton to clinch back-to-back promotions.
The Leyton game was dramatic as a fire alarm with five minutes remaining caused the whole sports hall to be evacuated.
Play was held up by half an hour as players, coaches, and spectators were led outside to the car park.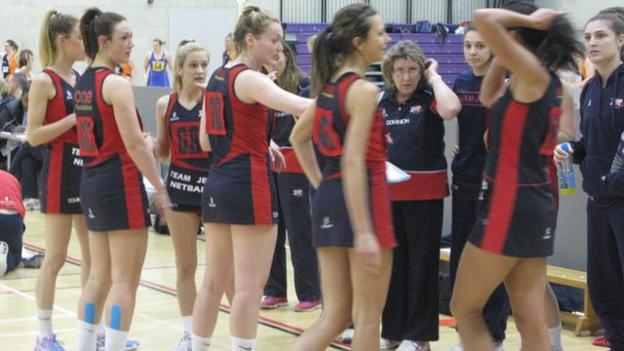 "That was awful. After about 55 minutes of game-time in the third match we were all exhausted and just bewildered to be honest," added Brown.
"Everyone really came together in that last few minutes, they were the ones that counted."
Fellow Premier League Three sides Ryland and Kent will also move up with them for next season, with the new campaign set to begin in little over four months' time.
"We're all Jersey girls who have come through promotion after promotion so it is a substantial effort from everyone. We all work so hard, we give up so much time so it is well deserved," Brown said.
"I think the physicality will go up again in Premier League Two but we've already beaten two teams that have gone down from that league, which gives us a bit of confidence."