Welsh Netball: Upheaval will not affect World Cup plans - Hyndman
Last updated on .From the section Netball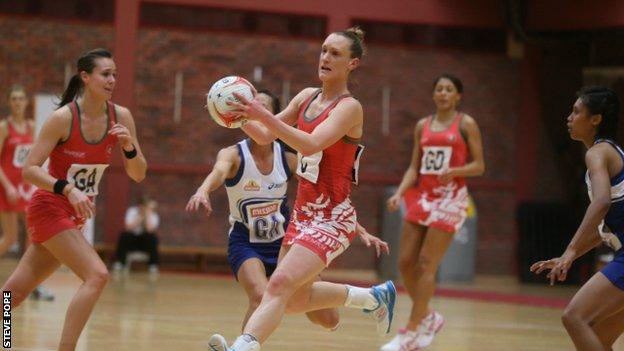 Welsh Netball's former head coach Melissa Hyndman says recent off-court upheaval should not affect Wales' World Cup preparations.
Interim chief executive Sarah Jones, the third chief in a year, hopes she will provide stability after a series of top-level departures.
Hyndman, sacked in 2014, says the players will be prepared for the tournament in Australia.
"Mentally and physically they should be prepared," Hyndman said.
"They turn up, train and play and that shouldn't affect them whatsoever. They've got a big job to do and they know what it is and how exciting."
Trish Wilcox is now in charge of Wales, who are in Pool D alongside Fiji, Uganda and Zambia for August's World Cup.
Off the court Sarah Jones, on secondment from Welsh Gymnastics, has been appointed interim chief executive following the resignation of Alun Davies.
She is the third chief in a year as Davies' predecessor, Mike Watson, was only in the role for six months during a turbulent year for the organisation.
In 2014 there were also changes on court with the dismissal of Wales and Celtic Dragons high performance coach Hyndman.
Hyndman was sacked just weeks before the Commonwealth Games following a disciplinary investigation.
The New Zealander said she had faced two allegations of disciplinary breaches.
"Although I'm not the Welsh coach any more I certainly have a lot of love and passion for Wales and netball," Hyndman added.