Netball World Cup: Tracey Neville - the pitfalls of a famous family
Last updated on .From the section Netball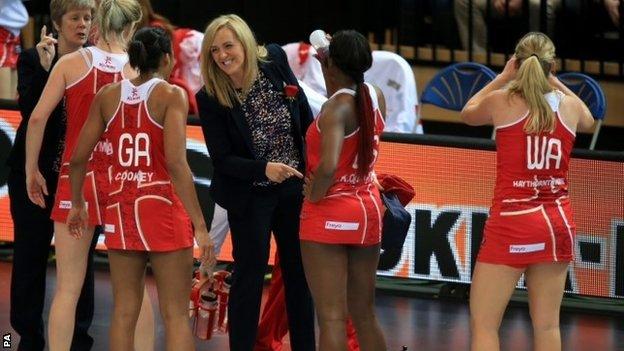 Netball World Cup
Venue:
Sydney Olympic Park, Australia
Dates:
7-16 August
Coverage:
Reports and reaction on BBC Sport
Should England win the Netball World Cup, the ramifications for English football could be significant. Sibling rivalry can fuel ambition. And Tracey Neville, head coach of the England netball team, already has monstrously ambitious siblings.
Twin brother Phil and older brother Gary amassed almost 1,000 Premier League appearances between them, plus 14 Premier League titles, six FA Cup and three Champions League triumphs. Oh, and they also won 144 England caps. But, as Tracey is keen to point out, "they're not in a situation where they can win a World Cup".
Not yet. But with Gary ensconced in the England coaching set-up and Phil now assistant manager of Valencia, following a stint under David Moyes at Manchester United, the one-upmanship at Neville family gatherings might go up a notch if Tracey leads England to their first world title in Australia.
But on the eve of the Netball World Cup, which starts in Sydney on Friday, Tracey is acutely aware that there is a fine line between earning bragging rights within her famous family and that famous family name earning her and her team unwelcome attention, should things go wrong.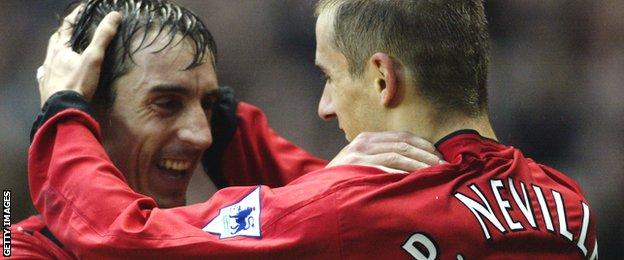 "Being a Neville is only a positive when you're successful," says Neville, who played 81 times for England before a knee injury forced her to retire in 2008.
"My family has been in the public eye for many different reasons, so I'm used to media interest. But a lot of that media interest has been bad.
"That's something I've been really honest to my bosses about. They'll get more people wanting to interview me, my name will promote netball and gain more followers. But if they put me out there as their shop window and that window gets smashed, they'll have to deal with that as well."
History suggests that Neville should pull up the shutters, because the England netball team, like the England football team, are perennial underachievers.
England have one silver medal to show from 13 previous World Cups, 10 of which were won by Australia. It is New Zealand, not England, who have been Australia's great rivals, the Silver Ferns having won four world titles (the 1979 version was shared between Australia, New Zealand and Trinidad and Tobago).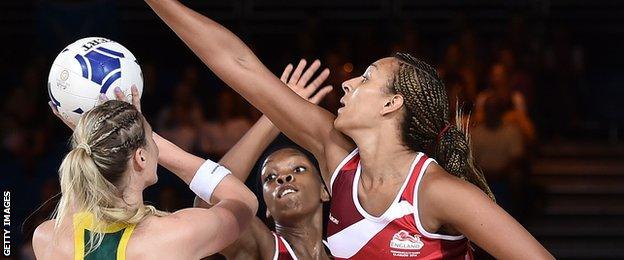 Currently ranked third in the world, England finished fourth at last year's Commonwealth Games in Glasgow before losing a Test series in Jamaica, results that hastened the sacking of Anna Mayes in March.
The 38-year-old Neville, who had led Manchester Thunder to two Superleague titles in three years while garnering a reputation as the most innovative coach in the game, was swiftly appointed as Mayes's interim successor. England Netball expect a medal in Australia and World Cup glory on home soil in 2019. No pressure. And not much in the way of praise from her brothers, either.
"They're massively proud but they also expect it," says Neville, whose Thunder outfit suffered a shock defeat in the Superleague semi-final play-offs in April, having gone through the regular season unbeaten in 14 matches.
"There was an expectation that I would be England manager. They do demand a lot of me. But I've told the girls that I'm not a magician. This is about having passion and showing it on court. That's the only thing I'll ever ask of this team."
But Geva Mentor, England's outstanding talent, reveals there is a whole lot more to Neville's coaching methods than getting the girls to sing the anthem with gusto and play with plenty of oomph.
"I love what she's doing," says the England captain, who plays her club netball down under in the ANZ Championship. "She's only had us a short amount of time but I can see the difference in terms of the mindset and fitness, where we are going and what we want to do. She gets the best out of you."
World Cup groups (ranking)

Pool A

Pool B

Pool C

Pool D

Australia (1)

England (3)

South Africa (6)

Fiji (7)

New Zealand (2)

Jamaica (4)

Malawi (5)

Wales (8)

Barbados (9)

Scotland (11)

Sri Lanka (24)

Zambia (18)

Trinidad & Tobago (10)

Samoa (13)

Singapore (17)

Uganda (14)
Getting the best out of players who are semi-professional, as they have been in Australia and New Zealand since 2008, must be a lot easier than getting the best out of players who are effectively part-timers, as they are in England.
Pamela Cookey, about to play in her third World Cup, is a business development manager; Helen Housby, 20, is a zoology student; Rachel Dunn is a genetic scientist whose stated ambition is to win a Nobel Prize.
At least their gaffer can empathise. "I've got two brothers who made a living from their sport and then you've got me who's had to work, train and educate," says Neville, who studied maths and sports science at university and whose first front-line coaching job was with Team Northumbria in 2011.
"At no point was I ever jealous or did I compare myself to them. These girls enjoy their jobs and their sport, they get the best of both worlds.
"But look at Jessica Ennis-Hill [who won heptathlon gold at the 2012 Olympics], the England women's rugby team [who won the 2014 World Cup] and the England women's football team [who finished third in the 2015 World Cup] - women's sport is achieving and getting a lot more interest as a result. We've now got to treat netball like a business, not a recreational sport."
For all the riches they earned during their illustrious football careers, imagine what Phil and Gary - both of whom went on to carve out lucrative careers as analysts - would give for a World Cup winners' medal.
Picture the scene, a Neville family meal: Phil baked brown by the Spanish sun; Gary chirpier than usual after another England victory. In walks Tracey, who slams down the World Cup trophy and says: "Analyse this."