Lauren Devine: Team Jets can be competitive at higher level
Last updated on .From the section Netball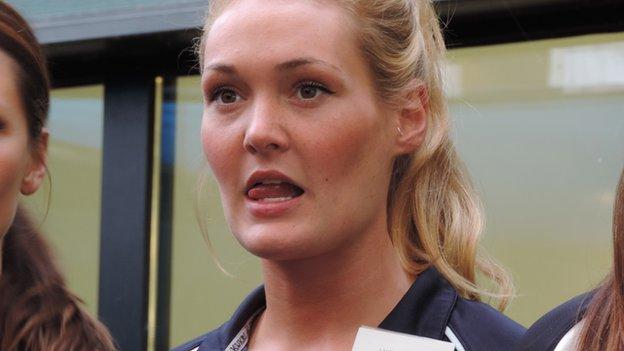 Team Jets are capable of competing at Premier League Two level, according to captain Lauren Devine.
"We definitely still belong at this level," said Devine, who is set to return from injury on Sunday.
"We haven't found our feet yet. We've got new people coming into the squad, some youngsters and some people coming back, so we haven't quite gelled yet."
She added: "I'm confident that as time goes on we'll keep learning, we will strengthen, we do deserve to be there."
Jersey host Middlesbrough-based Grangetown at Fort Regent on Sunday, with Devine hoping the islanders can improve against opponents who have won just once during this campaign.
"At the moment our weakness is our court play and the number of errors, so we've been focusing on technical sessions and doubling up on those," she told BBC Radio Jersey.
"But we need to start playing smarter.
"We weren't punished for our errors lower down in the league, we could make errors and still get way with them and still win games, and that's done us no favours as our error rate is still too high."