Netball Superleague 2016: Closest ever campaign on the cards
By Gary Smee & Caroline Chapman
BBC Sport
Last updated on .From the section Netball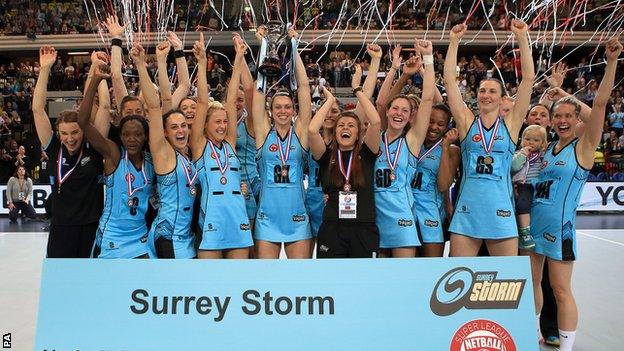 With an array of international talent on show and big signings made, could we be about to see the most competitive Superleague season in its 10-year history?
On Saturday, thousands of fans will pack into Birmingham's Genting Arena to watch the 2016 opener to England's domestic netball league.
All eight teams feature, including five-time champions Team Bath taking on current title holders Surrey Storm.
"All the coaches and teams have tipped it to be the best Superleague season yet," said former England captain Karen Atkinson, now coach at Loughborough Lightning.
She told BBC Radio Leicester: "There's been quite a lot of movement and some real standout imports brought in. All of the teams seem to have strengthened.
"For somebody to go through unbeaten and then into the play-offs, I don't think that's going to happen this year. I think the teams to qualify for the semi-final will go right to the wire."
Super Saturday to start
For the first time since the Superleague started in 2006, the opening round of four fixtures are being held at one venue on the same day.
The eight-hour marathon will begin with last year's beaten finalists Hertfordshire Mavericks playing Celtic Dragons, before Yorkshire Jets go up against Loughborough.
Manchester Thunder will face Team Northumbria ahead of Storm taking on Bath to round off proceedings.
Surrey claimed the title for the first time in their history by beating the Mavericks 56-39 last April, but the two clubs will have to wait until round seven on 5 March before they meet again.
Like last season, there will be 14 rounds of fixtures, played over 12 weeks, with the 2016 grand final on 7 May.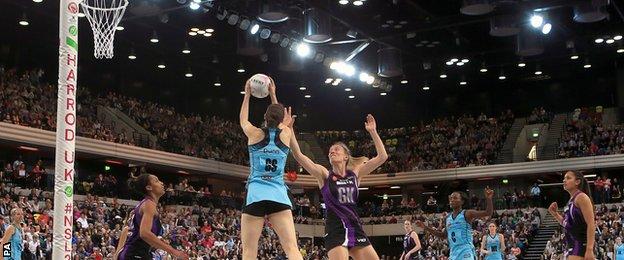 Round One fixtures - Saturday, 30 January
Celtic Dragons v Hertfordshire Mavericks - 14:00 GMT
Yorkshire Jets v Loughborough Lightning - 16:00 GMT
Manchester Thunder v Team Northumbria - 18:00 GMT
Team Bath v Surrey Storm - 20:00 GMT
Who are the favourites?
Surrey Storm
Reigning champions Surrey Storm are coached by former England attacker Tamsin Greenway and have a squad full of experience including England international Rachel Dunn, Pamela Cookey and captain Hannah Reid.
Storm have reached the final in four of the past five seasons and will be odds-on to qualify for the semi-finals once again in 2016.
Hertfordshire Mavericks
The two-time champions have something of a pedigree in this competition, having reached the final six times in 10 seasons.
Despite losing to Surrey Storm in last year's showpiece, Mavericks vice-captain Lindsay Keable thinks they can go one better this year.
"We've got fresh blood, we've got new imports such as Sammy Wallace and Joline Henry. It's such a brilliant team, we've got great dynamics." she told BBC Three Counties Radio.
"I think this season we're something different and we've definitely got a great route back into that final and hopefully we'll walk away with the title this year."
Manchester Thunder
The 2012 and 2014 champions won all 14 league games last season before suffering a shock defeat by Hertfordshire in the semi-finals.
However, the Thunder squad is full of England internationals with Sara Bayman, Jodie Gibson, Helen Housby, Laura Malcolm and new signing Nat Haythornthwaite in the 2016 Roses team.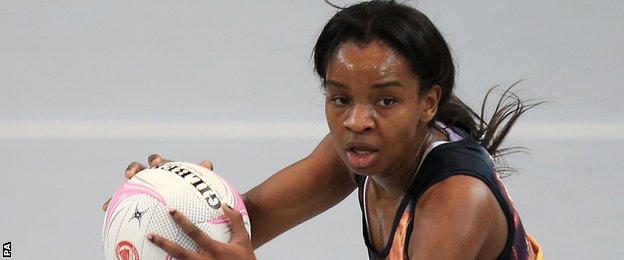 They will be guided by new head coach Dan Ryan, who replaced Tracey Neville last June.
"The group has come together really nicely, so we're very eager to get out on court and put everything into place," he told BBC Sport.
"There's a wonderful legacy that Tracey left behind and these athletes that I've inherited know what it takes to win the competition."
Underdogs - Loughborough Lightning
Atkinson has significantly strengthened her side this season by signing England internationals Sasha Corbin and Jade Clarke to go alongside Ama Agbeze.
Loughborough also welcome back last season's top percentage shooter, Peace Proscovia.
"We're renowned for just having a lot of really good Loughborough University students but I don't think having a collective group of that age are going to win a superleague," Atkinson said.
"It was my intention to get some really experienced players who have been there, done it, for long periods of time."
The big transfers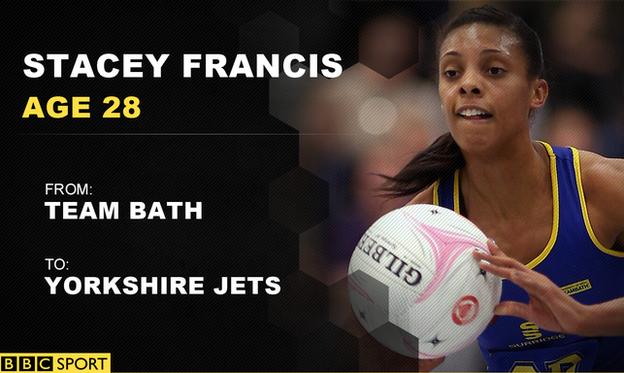 Nat Haythornthwaite - Yorkshire Jets to Manchester Thunder
Sasha & Kadeen Corbin - Hertfordshire Mavericks to Loughborough Lightning
Eboni Beckford-Chambers - Adelaide Thunderbirds to Team Bath
Kyra Jones - Team Bath to Celtic Dragons
Shanice Beckford - Berger Elite League, Jamaica to Team Northumbria
Players to watch out for
Surrey Storm and former England goal attack Pamela Cookey picks her five players to look out for this season:
George Fisher - shooter, Hertfordshire Mavericks: Only 17, but standing at 6ft 2ins, she's a solid weapon and has shown great maturity. She will be playing alongside Kadeen Corbin which is exciting. She is a good target, easy to feed to, and when she catches she just turns and shoots.
Karla Mostert - goal defence, Team Bath: Bath's South African import is unassuming, nimble and quick for a goal defence. You never know she is there before she intercepts. Karla attacks through the court and reads the game well. Her combination in defence with Eboni Beckford-Chambers will be great.
Sophia Candappa - centre/wing attack, Surrey Storm: Sophia brings excitement. Quick, nimble and has great vision. When she is feeding into the goal circle she is on point. It has been such fun playing alongside her. Sophia really opens up the attacking third.
Maria Lutu - shooter, Yorkshire Jets: She is only 24 but she has been to two World Cups with Fiji and I saw her play there in the summer. Maria is going to add a great dynamic to her team, and her leadership and experience will help a really young Yorkshire Jets squad.
Jade Clarke - mid-court, Loughborough Lightning: Jade is a stalwart. She has got five years' experience in the ANZ league. Her strength in the mid-court is phenomenal, in both attack and defence. She can really hustle you and she comes out for intercepts which she then just powers down court.